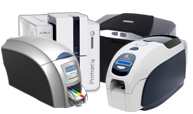 In Part 1 of this series, we covered Steps 1 – 3 for identifying needs and existing requirements before moving on to the visual design phase. In Part 2, we discussed Steps 4 and 5: layout and graphic considerations in ID card design.
In this post, we wrap up the series by taking a look at the best printers for printing, encoding, and laminating your ID cards and badges, along with offering some testing advice to ensure your first big print batch is all you expect it to be.
Step 6: Choosing the Right Card Printer to Bring Your Design to Life
Now that you've invested the time to develop a custom design for your ID cards, it's important to choose the right card printer/encoder to help bring that design to life.
If your card has simple magnetic stripe technology, or no electronics technology at all, consider A) traditional direct-to-card printing technology. If your card has embedded electronics, or if image quality is of the utmost importance, consider B) reverse transfer technology.
Regardless of your card design, there are numerous printing, encoding and laminating options available to meet your on-demand needs.
Here are our recommendations:
A) For Cards with Simple or No Electronic Technologies – Traditional Direct-to-Card (DTC) Printers

Printers for Basic Photo ID Cards – Loyalty cards, membership cards, basic student IDs, and gift cards
If you are printing photo ID cards for basic visual identification, a low-volume entry-level printer and standard or generic pvc card stock will work. These cards often don't need the highest print quality and are used to identify someone visually or with a simple barcode that can be scanned.
Low-volume card printers can sometimes produce the same print quality as higher-end models, for a much lower upfront cost. Keep in mind that many low-volume card printers are also entry-level models. Entry-level printers are the least expensive, but often do not have a wide range of options and do not offer the highest print quality (go with a retransfer printer for highest print quality).
Our preferred basic photo ID card printer choices are: 
Printers for Magnetic Stripe Cards – Commonly used for time and attendance systems, secure access, loyalty or gift cards, membership cards, hotel room keys, and a variety of other applications.
Magnetic stripe cards (commonly called "swipe cards") can store a sequence of alphanumeric characters that can be read by any standard card reader.  When integrated with other systems, magnetic stripe technology can increase the versatility of your cards by allowing them to be used in new ways. Most printer models have options available to encode information to your card at the time it is printed.
Our preferred magnetic encoding printer choices are:
Printers for Access/Smart Cards – Often used in kiosk payment systems or as part of a biometric access control system.
Encoded Smart cards allow more advanced or detailed information to be stored directly on a card than the alphanumeric characters used for mag stripe card encoding. While magnetic stripe cards are not much more expensive than plain cards, "smart cards" such as HID cards, can cost considerably more.
All of the printers above the basic photo ID/entry level have the option for contact or contactless encoding.  It's important to decide up front whether you will be using encoded information on your smart cards because most printers are not designed to support an encoder upgrade post purchase.
We tend to lean toward the Fargo/HID printers for smart card encoding simply because they have historically made the prox (smart) cards as well as the printer/encoder.
Note: Most contactless cards are usually purchased pre-programmed for your specific ID system needs. If you are purchasing pre-programmed cards, you won't need a printer with the contactless or prox reader/writer technology in them.
Our preferred smart card printer choices are:
B) For Cards with Electronic Technologies (Chips) or Highest Image Quality – Retransfer Printers  & Laminators

Technology cards can be problematic to print on since they can have raised areas from the contact chip on the surface or dips from embedded antennas. Direct-to-card printers aren't able to print on these raised areas or dips – making reverse transfer printers better suited for the job.
Alternatives to electronic technology cards are holographics, which produce the highest level of visually secure design.  Holographic security elements are difficult to forge, yet easy to authenticate.
Laminating printers are required to produce highly tamper-resistant holographics and overlaminate card designs. Overlaminate layers also prolong the life of your ID cards. People can be hard on their ID Cards and Badges, causing them to wear out quickly.
The top ID card printer manufacturers – Zebra, Evolis, Magicard, Fargo, Datacard, and IDP – each offer overlaminate ribbons that effectively shield ID Cards from abrasion, wear-and-tear and tampering by adding a protective coating that cannot be removed without damaging the card. Adding a laminate to your ID Card or Badge also saves you money in the long run by protecting your PVC card stock, ID printer ribbons, and card printing equipment.
Our preferred laminating and retransfer printer choices are:
Note: Advanced ID card printers such as these not only print cards, they can encode multiple technologies and laminate them — all in one pass.
Step 7: Testing Image Quality and Functionality Prior to Large Scale Production
Testing your printer and design ensures everything works as expected – prior to a large-scale implementation. It's important to test your card design with the printer you intend to use – rather than the one that's most convenient. Taking the extra step to test allows you to identify any performance issues while they are easy to fix – saving you significant time and money.
Basic Tests to Run
Is the image quality consistent?
Is card data successfully read at all checkpoints?
If you're using the cards to track activity, is that data being accurately transmitted to your systems?
Once you've tested your ID card system at all points in the process, you can proceed with confidence.
Congratulations! If you've followed this process, your ID Card Design project should be a success.
Helpful How-to Card Printing Resources

In the following parts of this series, we'll take a look at:
ID Card Design Tips: Best Printers for Printing, Encoding, Laminating – Part 3
See also our How-to Series: Choosing an ID Card Printer
Questions?
If you need more information on – or desire assistance with – creating the right level of security for your organization's ID cards and badges, contact one of our ID Experts at 877-868-0012 or sales@idcardgroup.com. We'll make it easy for you!
ID Card Group offers a price match guarantee, provides free shipping on orders over $100, and accepts purchase orders.
Source: The Card Design Guide Book, Fargo/HID, 2009