With a wide range of lanyards, badge reels, badge holders, and more, ID Card Group has all the ID accessories your business needs at the affordable prices you want. Shop our most popular options below.
ID Card Lanyards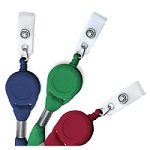 Lanyards come in the widest range of styles, allowing you to customize the color, attachment style, breakaway, and more.
ID Badge Reels
Badge reels make it easy to keep an ID card out of the way while you work because the retractable cord stays wound up, making them in-demand for industries like education and healthcare.
ID Card Holders
ID card holders protect your cards and extend their lifespan so you won't need to replace them as often, and can come with a clip so they can be used on their own or a slot for attaching to a lanyard or reel.
Questions?
Contact our expert sales staff at (877) 868-0012 or sales@idcardgroup.com for help choosing the best ID accessories to fit your needs.
ID Card Group accepts purchase orders, offers free shipping on orders over $100, and a price match guarantee.