Using overlaminate ribbons, several ID card printers are capable of producing holograms to enhance your ID card program security.
However, if you need a hologram solution that is unique to your organization and guaranteed not to be replicated, you can order a custom hologram film.
Your custom hologram film will be based on your chosen design and security requirements and features.
Custom Hologram Ordering Process
Given the many options, it's best to place your custom order by phone. Call an ID expert at (877) 868-0012 and we'll walk you through the different choices and answer any questions you have.
We steer most customers to the Magicard Rio Pro if they're looking for a custom hologram as Magicard's HoloKote® is the most affordable hologram option offered.
The basic steps for ordering your custom designed hologram film are:
Choose the type of image that you want to use as your custom hologram.
Select the type of ribbon material:

Varnish Overlay Ribbon (continuous)
Laminate Ribbon (patches)

Choose the security level that you want to apply.
Determine the types of security features needed.
Design your artwork and submit it along with your custom hologram order.
Set-up fees can vary depending upon your design requirements.
Artwork Specifications
Clear black and white or color-separated artwork is necessary to achieve quality images for your order.
Half-tone, grey scale, and full color images are not readily acceptable.
Required file types include:

AI
EPS
PDF (editable)
CDR
Timeframe
The complete process to return 50 or 100 rolls of custom holograms can take about 9 weeks, assuming that approvals occur according to schedule.
Approval Schedule
Creation of master with hologram and design proposal for approval: 3 weeks
After approval of design, creation of shim: about 3 weeks
Recombination and production of order: about 3 weeks
Review of Custom Hologram Security Levels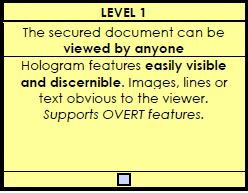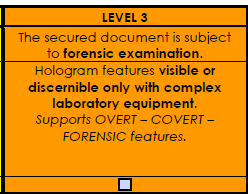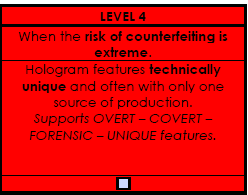 Review of ID Card Printing Security Options

Here's a nice visual overview of the elements of ID card printing and the varied types of security options:
Custom Holograms for ID Security Series
See also:
How to Order Custom Holograms for Enhanced ID Card Security
Questions?
If you need more information on – or desire assistance with – creating custom hologram security for your organization's ID cards and badges, contact one of our ID Experts at 877-868-0012 or sales@idcardgroup.com. We'll make it easy for you!
ID Card Group offers a price match guarantee, provides free shipping on orders over $100, and accepts purchase orders.
Source: Evolis Card Printer Custom Hologram Guide, August 2012