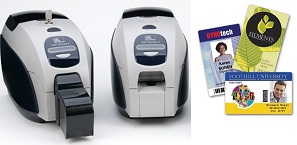 Offering high-end features at an affordable price, the newest Zebra Card printer has arrived to rave reviews from our ID Experts who previewed it!
Read our expert ZXP3 printer review.
Zebra's kept the price comparable to its value class P110i and P120i card printers – but powered up the benefits to those of the high performance P330i/P430i printer line.
If you're looking for an affordable ID card printer that is big on features yet compact with a small footprint, the Zebra ZXP series 3 card printer is for you.
Well Suited for Many Plastic Card Applications
The hybrid ZXP3 Card Printer is well suited for many plastic card applications – from standard employee badges and student IDs to complicated access control cards and smart cards to high-security financial cards, including ATM cards.
The ZXP Series 3 Card Printer's power and versatility make it an ideal choice for organizations printing up to 5,000 cards per year – and wanting best-in-class performance and security at affordable prices.
Faster Print Speed and Better Image Quality
Building on the increased processing power of today's PCs, the ZXP Series 3 employs proprietary ZRaster host-based image processing technology to optimize image and print quality significantly – while increasing overall print speed throughput.
New, high-performance ribbons provide more efficient dye transfer and greater durability under high-speed printing conditions – ensuring the ZXP Series 3 card printer delivers as a printing powerhouse. And the Load-N-Go Ribbon cartridge design makes changing ribbons quick and simple.
Enhanced Security with Full Encoding Capabilities
The ZXP Series 3 card printer offers multiple encoding options, including ISO HiCo/LoCo magnetic strip encoding; contactless and contact encoding; contact station for third-party contact encoders; lockable enclosure/card feeder; CardSense™ single-card feed mode; and smart card encoding over USB and Ethernet.
Flexible Design Allows As-Needed Customization
With the Zebra ZXP Series 3 card printer, you can choose the full options suite at purchase – or add optional components as needed. The ZXP3 comes with:
Optional single- or dual-sided printing modules
Smart card and magnetic stripe encoding kits
Enclosure lock for the card hopper
Choice of connectivity (USB or Ethernet)
Optional Starter Kits Create a Complete ID System

ZXP 3 ID Card Printer
The ZXP3 card printer is available with starter kits or as a standalone ID card printer.
The ZXP3 ID card printer is also available as a complete ID system, with the addition of ID Card Groups's basic or complete starter kits:
Basic Starter Kit (Color Ribbon 200 Cards)
Complete Starter Kit (includes Basic Kit Card Software Webcam)
The ID Card Group Advantage
As a Zebra Premier Partner, ID Card Group can offer all Zebra card printers and Genuine Zebra Color Ribbons and Monochrome Ribbons, Zebra PVC Cards, and Zebra Cleaning Supplies & Kits with the full technical support team at Zebra standing behind us – and we are able to do this at the lowest possible cost to you.
Questions?
If you need additional help choosing the best ID card printer for your organization's needs, call our ID experts at 877-868-0012 or sales@idcardgroup.com. We'll make it easy for you!
You can also check out our helpful how-to series on choosing an ID Card printer:
ID Card Group offers a price match guarantee, provides free shipping on orders over $100, and accepts purchase orders.