I'll be honest with you. After Zebra's rocky start with the ZXP8 card printer, I was wary of trying the latest ZXP model – the Zebra ZXP Series 3 ID printer.
But I have to admit, I'm impressed – really impressed.
Zebra's ZXP Series 3 Card Printer – A Real Game Changer
Upon first inspection, the ZXP3 print engine looks very familiar – in a good way.  It appears that the ZXP 3 is based on the solid design of Zebra's P100 iSeries printers.  The P100 iSeries line has been a proven winner over the years, in spite of some unique design choices.
However, the real game changer for the ZXP3 is two-fold:
Increased print speed – the ZXP3 is 33 percent faster than its predecessor.  It now prints a full-color YMKCO single-sided card in just 20 seconds, up from 30 seconds per card on previous models.  This increase in speed is due to the second upgrade…
A whole new film cartridge – Zebra has somehow figured out how to increase the speed of the print as well as lowering the cost of the consumable — a great move for our customers.  The increased speed is due to the ZRaster host-based image processing technology allowing the printer itself to do some of the heavy lifting previously done by your computer processor.  It is a true rarity to get newer-faster-more and cheaper. That is just unheard of on any new product!
Remarkable Edge to Edge Printing
The speed and cost of the ZXP3 aren't the only improvements I found on this next generation Zebra card printer.  It also achieves a remarkable edge-to-edge print on the card.  With any card printer on the market today, you'll have at least one edge that will show a small amount of card surface that can't be printed on.  But with the ZXP 3, the edge to edge is so close you'll be hard pressed to tell your cards weren't printed on a retransfer printer.  It's really quite remarkable.
Now With Print Touch™ – Near Field Communication (NFC)
The Enhanced ZXP Series 3 printer now includes Print Touch™, an embedded Near Field Communication (NFC) chip and software.
Now you can read key printer information and launch web-based help pages by simply holding your NFC-enabled smartphone up to the Zebra Print Touch logo on the printer.
Watch this short video on the ZXP 3 printer's Print Touch feature:
[youtube:eIM4PnJoWVQ]
Handy Security Features
The ZXP 3 card printer also comes with some handy security features. This printer has the option to secure it to the user's desk with a Kensington physical lock slot. There is also a key locking feature available on the lid to secure the consumables and an obscured output hopper, making the ZXP 3 a good fit for a higher-security production environment.
One Limitation
As with many card printers across all brands, the ZXP 3 printer does lack a sufficiently-sized output hopper compared to the input hopper.  Luckily, most ZXP3 users will not be printing high volumes per batch, so the 100 card input hopper and 45 card output hopper should be adequate.
Overall – A Great Value-Added Card Printer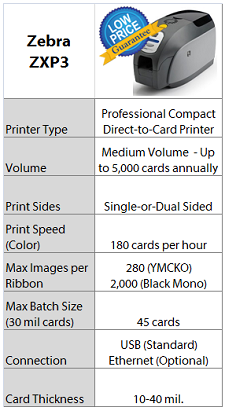 All in all, I would say the ZXP 3 is a great new addition to the Zebra card printer line up – and definitely a step in the right direction in terms of adding value.  I look forward to seeing what comes next from the good folks at Zebra Technologies.
Optional Starter Kits Create a Complete ID System
The ZXP3 ID card printer is also available as a complete ID system, with the addition of ID Card Group's basic or complete starter kits:
Basic Starter Kit (Color Ribbon 200 Cards)
Complete Starter Kit (includes Basic Kit Card Software Webcam)
The ID Card Group Advantage
As a Zebra Premier Partner, ID Card Group can offer all Zebra card printers and Genuine Zebra Color Ribbons and Monochrome Ribbons, Zebra PVC Cards, and Zebra Cleaning Supplies & Kits with the full technical support team at Zebra standing behind us – and we are able to do this at the lowest possible cost to you.
Questions?
If you need additional help choosing the best ID card printer for your organization's needs, call our ID experts at 877-868-0012 or sales@idcardgroup.com. We'll make it easy for you!
You can also check out our helpful how-to series on choosing an ID Card printer:
ID Card Group offers a price match guarantee, provides free shipping on orders over $100, and accepts purchase orders.
About the Author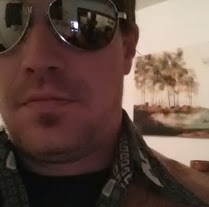 Jeramie Ivie is a trained and certified ID printer technician at ID Card Group. When not troubleshooting for customers, he's putting the newest card printers through their paces and writing candid reviews like this one. Jeramie is also the resident artisan overseeing all custom printed work, including custom printed cards, lanyards and badge reels, but he still finds time to serve as grill master for BBQ Fridays. Jeramie literally prints thousands of cards each month for a wide-variety of customers. He has seen it all and offers a practical view of card printers. Be sure to visit his Google profile to check out his latest project and to find out what it means to be a mechnician.