Editor's Note: The Primacy recieved some impressive updates in Q3-4 2015, including: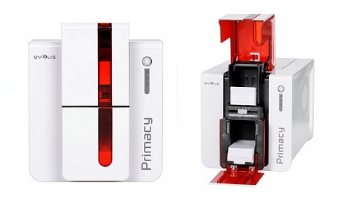 Save 10% on any Evolis printer – including the Evolis Primacy – now through 12/31/15.
Get the Evolis coupon code.

Extended memory 32 Mb RAM standard, extendable to 64Mb
Extended printing resolution – 300 x 600 dpi color & monochrome; up to 300 x 1200 dpi monochrome
Faster print speeds – Color up to 225 cards/hr (single side)
Open output hopper option for unattended counter applications
Low card level sensor lets you know when feeder is almost empty
UHF enocoder for longer-range access control applications
Building out its lineup of next generation printers, Evolis has added the Primacy as its answer to mid volume production printing. The Primacy joins the Zenius – its eco-friendly small batch printer.
Matching Input/Output Card Hoppers

First of all, I'd like to commend Evolis on getting it right again – just like its high-volume cousin the Dualys – the new Primacy printer offers a 100 input hopper and 100 card output hopper!   Hurray!  And it is available on both the single sided and the double sided versions. 
Evolis is the only manufacturer that understands how important input/output performance is to users.  It's just good work flow, 100 in 100 out. Not 100 in and half on the floor – something I find with other manufacturers.
The door on the output hopper is another nice feature on the Primacy. It helps to keep everything nice and tidy – and I really appreciate that.  Along with the front input/output hoppers, you also have a rear output hopper that holds 30 cards.  The rear output hopper is especially useful for encoding jobs – your print job won't stop if you happen to get a card in the batch with a bad mag strip.
Many Field Upgradable Options
As I've touched on briefly, the Primacy comes with a dual-side option, something not offered in the Zenius.  The dual-sided option, along with the many encoding options, is also field upgradeable.  So if you want to start out small and upgrade your printer over time, you have that option with this new line of Evolis products.
Faster Print Speeds
The Primacy boasts some pretty good numbers too – all these are quite a bit faster than anything a generation previous:
Single-sided full color printing – 190-225 cards/hour
Single-sided monochrome printing – 600-850 cards/hour 
Dual- sided print with full color plus black on the front and black on the back – 140 cards/hour
Color Choices
The Primacy comes in two colors – the always exciting Fire Red that we have all come to know and love on past Evolis models and a new color they call Brilliant Blue.  After seeing if for the first time, it looked more like "Bland Blue" to me. But, the point is we now have more choices than PC beige – a good thing.
Intelligent Ribbon Installation and Configuration
Evolis' major change for this next generation of printers is the ribbon cartridge with an RFID chip.  Although never a deal breaker on past models, it was a pain to have to set the ribbon type every time you wanted to change from color to monochrome or vise versa. 
The new Primacy and Zenius now make changing ribbons as simple as dropping it in and closing the lid.  The RFID chip updates the driver immediately and you are good to go.  Along with the new print cartridge, Evolis now offers its user friendly Premium Suite for Windows.  This gives you helpful information such as cleaning cycles, percentage of ribbon left, and more.
Card Design Software Included

The Primacy comes bundled with Evolis CardPresso Software – putting the power of plastic card and badge customization at your fingertips. You'll be creating corporate ID cards, student or visitor cards, or customer loyalty cards in a matter of minutes with this powerful and easy to use software. The full range of features include smart card coding capability, and contactless encoding in a fully integrated easy-to-use environment that issues cards as you need them.
Compatible & Flexible – with a 3-Year Standard Warranty
As with previous models, this new printer ships with a driver for the Mac.  Are you one of those rare Linux users?  Evolis has a driver for you too – just ask.
The Primacy ships with both USB and Ethernet connectivity for added user flexibility.   And that is really the key to the Primacy, its overall flexibility.
Even more impressive, the Primacy is backed by a standard 3 year warranty.  That is about the best warranty available standard on any printer in the industry.  Just make sure you keep up on your cleaning cycles, or you'll quickly have a print head that is no longer covered under the warranty.  Do yourself a favor and order an extra Primacy cleaning kit just to keep everything covered!
Overall – My Go-To Printer for Short Run Jobs
All in all, I am really impressed with the Primacy from Evolis.
With its faster output, excellent color punch, superior card coverage, and now a simple to use drop-in cartridge with RFID, the Evolis Primacy has quickly become my go-to printer for short run production jobs.
Create a Complete ID System with Starter Kits

The Evolis Primacy is also available as a complete ID system, with the addition of ID Card Group's basic or complete starter kits. You can even extend the warranty an extra year:
Basic Kit: Primacy Printer, 1 YMCKO full-color ribbon at 250 images (R5F005AAA) OR 1 YMCKO-K full-color ribbon (R6F003AAA) at 200 images, Cleaning Kit, and 300 PVC Cards (CR8030-WH)
Complete Kit: Primacy Printer, 1 full-color ribbon, Cleaning Kit, 300 PVC Cards, and Webcam)
Complete Kit Plus Extended Warranty: Primacy printer, 1 full-color ribbon, Cleaning Kit, 300 PVC Cards, Webcam and 1 year Extended Warranty)
The ID Card Group Advantage
As an authorized Evolis printer dealer, ID Card Group has deep technical knowledge from years of experience working with customers who use an Evolis card printer; printing systems; and supplies, including Evolis color ribbons, monochrome ribbons, Evolis cleaning kits, eMedia software, and printer covers and carrying cases.
Questions?
If you want more information on the Primacy – or need additional help choosing the best ID card printer for your organization's needs, call our ID experts at 877-868-0012 or sales@idcardgroup.com. We'll make it easy for you!
You can also check out our helpful how-to series on choosing an ID Card printer:
ID Card Group offers a price match guarantee, provides free shipping on orders over $100, and accepts purchase orders.
About the Author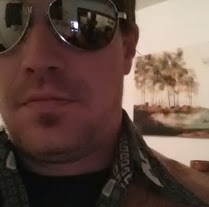 Jeramie Ivie is a trained and certified ID printer technician at ID Card Group. When not troubleshooting for customers, he's putting the newest card printers through their paces and writing candid reviews like this one. Jeramie is also the resident artisan overseeing all custom printed work, including custom printed cards, lanyards and badge reels, but he still finds time to serve as grill master for BBQ Fridays. Jeramie literally prints thousands of cards each month for a wide-variety of customers. He has seen it all and offers a practical view of card printers. Be sure to visit his Google profile to check out his latest project and to find out what it means to be a mechnician.