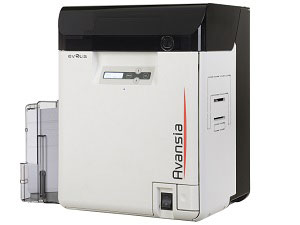 Evolis has finally thrown its hat into the retransfer printing arena – in a big way – with the new Avansia card printer.
This offering is big!  Not just in scale but in volume and dots per inch (dpi).  The Avansia commands a presence on my demo desk up against the other brands and models that I have for production and review.  Zebra has been making some huge printers in the last couple of years, most recently the ZXP7, and the Avansia towers over that in height.
Big Printer – Big Features
A large footprint is rarely a win for me – unless you are packing in some big features to justify it.

With the new Avansia reverse transfer printer, Evolis has some good reasons for its large size.
One respectable reason for the Avansia's size is that using reverse transfer is kind of like having two printing processes in one machine.  First you print to the transfer film and then you transfer that image to the card.  This gives you the full bleed, professional print many people are looking for – and requires a larger footprint.
High Input/Output & Ribbon Capacity
But more importantly for me, the Avansia delivers a 250 card input hopper and…. wait for it…. a matching 250 output hopper!  Hooray!  High input and output. Finally. I've been waiting for a high production machine that doesn't require a babysitter on the output end.
The Avansia YMCK ribbon (RT4F010AAA) is good for 500 prints, which matches well with the card capacity.  This will give you the option of 500 cards single sided or 250 cards full color on both sides.  The YMCKK option will yield 400 cards full color black front and black on the back, dual sided cards.
I have had some customers that have asked for a monochrome ribbon to use within a retransfer printer, but like most other brands, this is not available. The option would be nice, but alas, it remains a wish list item.
Printing Speed Tests
In my printing tests, I clocked a single-sided full color print at 20 seconds, which is a respectable speed for a direct-to-card (DTC) printer – let alone a retransfer printer.
But Evolis' specs state 25 seconds a card YMCK (144/hour) and 37.5 seconds a card for YMCKK (96/hour).  There are a couple of new ribbon options coming up in the near future, but I don't have specific availability dates on those so I won't go into those just yet.
Twice the Industry Standard Resolution
Now let's talk about resolution.  This can be kind of a boring topic in the ID badge printing realm.  All of the printers that I have reviewed over the years print at 300 dpi. 
The Avansia prints at a record-setting 600 dpi. That is twice the industry standard. Of course the big question is, Can you even tell?
When I compare the quality difference of any 300 dpi printer against samples from an offset printer at something like 1200 dpi, I sure can.  And I was curious about the advantages of 600 dpi over 300 dpi.
Putting Resolution to the Test – 300 dpi vs 600 dpi
For my test, I put the Avansia head to head with the Prima4 retransfer printer, which is my go-to production printer for full bleed printing.
The Avansia does have its advantages and some minor disadvantages.  Truthfully, the Avansia does render a depth and clarity that you can see.  The definition on water and plants is pretty remarkable. 
I did several tests with full color prints both rendered at 300 and 600 dpi. One draw back is when printing 300 dpi images on the Avansia, you will notice some artifacts. It would serve you best to recreate your images at the higher resolution. Doing so will ensure you get the quality output that the Avansia is capable of.
Two short falls that I noticed were 1) composite black seemed a little lackluster, and 2) sometimes text wasn't as sharp as I expected.  The black issue may be adjustable through the driver, but this is what you can expect right out of the box.  And, in all fairness, it's possible the text discretion may have been a design issue rather than a printer issue.
Standard Dual-Sided Configuration & Encoding Options
An interesting standard configuration is that the Avansia comes as a dual-sided printer.  This makes good sense. At this level, you are not going to be purchasing a single-sided model, right? 
Sure, maybe you want to print single sided once in a while and you have that option. As far as factory installed options (any and all), you have a choice of magnetic encoding (shipping mid Dec.), as well as contact and contactless encoding.
Prints on All Types of Plastic Cards
This is a good time to mention that the Avansia can also print on all types of plastic cards from PVC to composite and PET cards. And since it is a retransfer printer, you can also print on your technology embedded cards that you will be encoding with fantastic results. If you tried that on a DTC printer, you'd have printing challenges.
Security Options
The Avansia also comes with a couple of nice security options:

RFID key to lock the printer from use
Kensington slot for attaching a lock from your workstation to it
Optional key lock to secure the cards and ribbons
Overall A Fantastic High Volume, High Resolution Retransfer Printer
The Avansia is a good solution for a high volume printing environment that is looking at printing in the ball park of 30,000 cards a year.  The Avansia comes with a 3 year warranty and a lifetime warranty on the printhead to back up those projected volumes!
All in all, I think this will be a fantastic printer that will meet the needs of someone looking to print high resolution (600 dpi), full-bleed cards – with or without technology embedded in them.
If you have any further questions about the Evolis Avansia or would like a quote please feel free to call us at 877-868-0012 or email sales@idcardgroup.com.
The ID Card Group Advantage
As an authorized Evolis printer dealer, ID Card Group has deep technical knowledge from years of experience working with customers who use an Evolis card printer; printing systems; and supplies, including Evolis color ribbons, monochrome ribbons, Evolis cleaning kits, CardPresso software, and printer covers and carrying cases.
Questions?
If you want more information on the Avansia – or need additional help choosing the best ID card printer for your organization's needs, call our ID experts at 877-868-0012 or sales@idcardgroup.com. We'll make it easy for you!
ID Card Group offers a price match guarantee, provides free shipping on orders over $100, and accepts purchase orders.
About the Author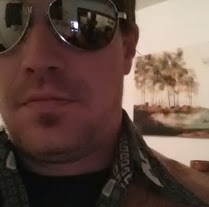 Jeramie Ivie is a trained and certified ID printer technician at ID Card Group. When not troubleshooting for customers, he's putting the newest card printers through their paces and writing candid reviews like this one. Jeramie is also the resident artisan overseeing all custom printed work, including custom printed cards, lanyards and badge reels, but he still finds time to serve as grill master for BBQ Fridays. Jeramie literally prints thousands of cards each month for a wide-variety of customers. He has seen it all and offers a practical view of card printers. Be sure to visit his Google profile to check out his latest project and to find out what it means to be a mechnician.