If you're looking for high-quality, high-definition secure card printing – the newest retransfer printer from Evolis is for you.
Exceptionally fast, it's capable of producing 140 single-sided color cards per hour – all at 600 dpi – that's double the print quality of most card printers on the market.
The Avansia is perfect for producing crisp, high-definition images, micro text, and watermarks.
Read our ID expert, Jeramie Ivie's, full review of the Avansia printer – or watch a video review.
Avansia Retransfer Printer Benefits
The Avansia is well suited for organizations needing robust production of high security cards with high print quality, such as:

Corporate ID cards
Secure access badges
Student ID cards
Payment cards
Loyalty cards /Gift cards
National ID cards
Driver's licenses
Why Choose the Evolis Avansia Printer?

Key features of the Evolis Avansia printer include:
Exceptionally fast output – Prints up to 140 single-sided color cards per hour
High resolution 600 dpi – Double the print quality of most card printers on the market – creates crisp, high-definition images, micro text and watermarks
Over the edge printing – Guarantees that your edges print perfectly since the film fully covers the card
Prints on all types of cards including:

Uneven card surfaces, such as smart contact and contactless cards
Standard dye sublimation for PVC cards
Retransfer for ABS, Polycarbonate (PC), and most of the PET cards

Ability to configure and combine all types of data encoding options:

Magnetic stripe
Contact smart cards
Contactless smart cards – Please contact an ID Expert at 877-868-0012 for Smart Card encoding options

High capacity card hoppers (250 cards), print ribbons and transfer film produce cards with no interruption, even in critical environments (dust, heat…)
Secure print environment with an easy-to-use RFID electronic key that prevents any attempt to use the printer
Optional mechanical key lock prevents access to consumables
Standard built-in card flattener delivers perfect results
3-Year standard warranty and life time warranty on the print head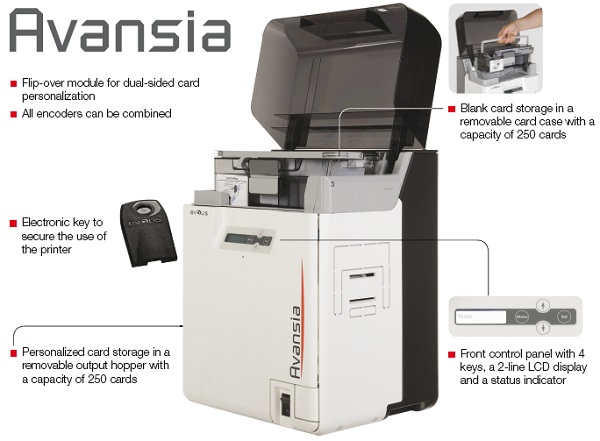 How Retransfer Technology Works
Retransfer technology works by printing the card in two phases:
The card design is printed by dye sublimation on a transparent film
The printed film is then fused to the card using a thermal bonding process for flawless results and high level tamper resistance.
As illustrated in the diagram to the right, the built-in flattener applies pressure on the card, which ensures a perfectly flat surface.
The ID Card Group Advantage
As an authorized Evolis printer dealer, ID Card Group has deep technical knowledge from years of experience working with customers who use an Evolis card printer; printing systems; and supplies, including Evolis color ribbons, monochrome ribbons, Evolis cleaning kits, CardPresso software, and printer covers and carrying cases.
Questions?
If you want more information on the Evolis Avansia – or need additional help choosing the best ID card printer for your organization's needs, call our ID experts at 877-868-0012 or sales@idcardgroup.com.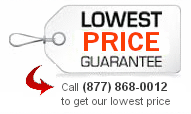 We'll make it easy for you!
ID Card Group offers a price match guarantee, provides free shipping on orders over $100, and accepts purchase orders.