Are you looking for a durable, professional ID card printer with a wide range of features? Or perhapse you need to find the supplies for your printer? We've gathered up all the information you need about Magicard ID card printers and supplies.
<
Magicard ID Card Printers & Systems
Ultra Magicard offers a wide range of ID card printers and system designed to meet ID card printer needs of every size. From the entry-level Magicard Pronto with hand-feed single card printing to the large Magicard Rio Pro with high-speed printing and built-in Ethernet, there's a Magicard printer for everyone.
And one of the best features of Magicard printers is the built-in HoloKote system! HoloKote is unique to Magicard printers, and allows you to include a watermark-like design into your ID cards at no additional cost and with no specialized equipment – an affordable and easy way to increase the security of your cards.
On the Magicard Pronto and Enduro printers you can choose from several set HoloKote designs, or upgrade to the Rio Pro to design your own custom HoloKote.
Magicard PVC Cards
Designed to work with Magicard printers, these Magicard blank PVC cards come in a wide range of styles:
Standard PVC
Composit cards
Magnetic stripe
HoloPatch
Adhesive back
Magicard Color & Monochrome Printer Ribbons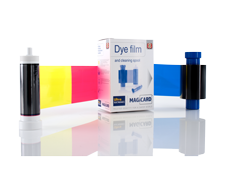 Printer ribbons are what your ID card printer uses to print, instead of ink like the printers you may be used to. These ribbons come in a huge range of styles and print yields, so you can print everything from full-color photo ID cards to simple membership cards with a barcode and member ID number.
Magicard color printer ribbons are used to print all the colors on your ID cards along with black text or barcodes. Monochrome ribbons print in only a single color with no shading or gradient.
Not sure which ribbon you need for your ID card printer? Try the handy "Find My Ribbon" tool at the top of the page to find all the ribbons specific to your printer model.
Magicard Overlamiantes
If you want to laminate your cards to incraese their durability, you'll need an overlaminate film in addition to the color/monochrome ribbon you use to print your design. These laminate films come in both clear and holographic, so you can add a holographic layer to your ID cards to increase their visual security.
Magicard Cleaning Kits
The last supply you'll need to keep your Magicard ID card printer system working is a cleaning kit. You should be regularly cleaning your ID card printer to prevent the build-up of dust and debris that can damage the printer; a good rule to follow is to clean your printer every time you replace the ribbon.
What comes in a cleaning kit? Supplies will vary by printer model, but can include some or all of the following:
Cleaning pens
Extra large cleaning cards
Swabs
Wipes
Cleaning rollers
Questions?
If you need help choosing the best Magicard printer and supplies for your needs, call our ID experts at 877-868-0012 or sales@idcardgroup.com. We'll make it easy for you!
ID Card Group offers a price match guarantee, provides free shipping on orders over $100, and accepts purchase orders.