ID lanyards are incredibly popular because they are easy to use, affordable, and come in a wide range of options – so shop ID Card Group's wide range of lanyards and add convenience to your IDs today!
Standard Lanyards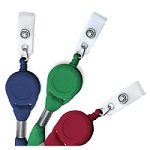 Standard lanyards have the most choices when it comes to the lanyard color, width, and attachment style.
Breakaway & Safety Lanyards
If you need to protect your employees from injury if a lanyard is caught on something or grabbed (especially important in construction and healthcare), breakaway lanyards feature a specialized plastic clip that will automatically open the lanyard when pressure is applied. Reflective and pre-printed lanyards can also help improve safety.
Recycled & Eco Friendly Lanyards
Lanyards made from eco-friendly bamboo fibers or recycled plastic are a great way to help you organization go green while still adding lanyards to your ID card system.
Questions?
Contact our expert sales staff at (877) 868-0012 or sales@idcardgroup.com for help choosing the best ID Badge Lanyards to fit your needs.
ID Card Group accepts purchase orders, offers free shipping on orders over $100, and a price match guarantee.