Evolis Badgy Printer - Single-Sided
Evolis Badgy Printer - Single-Sided
Part Number#: B22U0000RS
Evolis Badgy200 is an inexpensive ID card printer, ideal for people who need to print a few hundred plastic cards per year. Evolis Badgy is a great all-in-one solution because it comes with everything you need to start your card program, right out of the box! Each Badgy comes with the Badgy200 printer, a color ribbon, 100 white plastic cards, and card design software. NOTE: The original Evolis Badgy model was upgraded to the Evolis Badgy200 in late 2014.
Evolis Badgy200 is the all-in-one solution to personalize and print plastic ID cards and badges with photo-quality images. Evolis Badgy is simple to set-up right out of the box and works like other standard desktop card printers – but at a much lower price point. Made from rugged materials, Badgy is light, compact and portable. Key Evolis Badgy200 features:

Edge-to-Edge Card Printing – Unlike the lower Badgy model (Badgy100), Evolis Badgy200 prints on the entire card surface to create truly professional-looking ID cards and badges
Handy ID Card Design Software – User-friendly Evolis Badge Studio software with database and free online card library for both Mac & PCs
User-Friendly Design – Front-operated 25-card input/output tray and small footprint that fits into any workspace
Automatic Operation Settings – Easy-load Badgy printer ribbon cassette with RFID chip that monitors and troubleshoots printer operations
Speedy Print Performance – Evolis Badgy200 can print 95 single-side cards per hour (38 seconds per card)
All-in-one Card Printer Solution – Evolis Badgy200 comes with printer, Evolis Badge Studio card designer software license, color ribbon, blank cards, USB cable and 1-year standard warranty.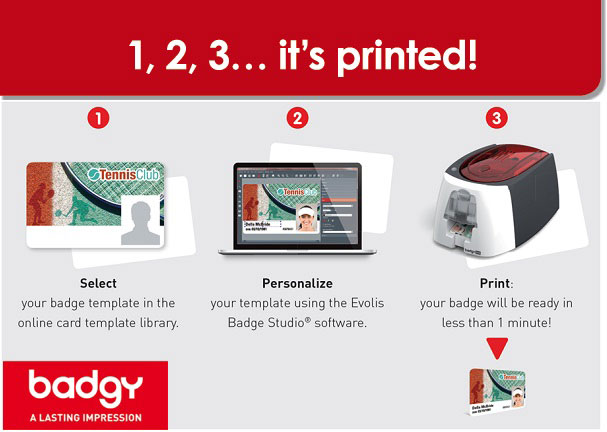 Quickly personalize your own badges, using intuitive card design software, and print them immediately using the single-run hand feed or detachable 25 card feeder.

Badgy uses one type of four-color YMCK ribbon (also called multi-panel ribbon). Evolis original ribbons are specially designed to guarantee optimum operation of your printer without any risk of damage. For optimum print quality, Evolis recommends cleaning all the equipment each time a ribbon is changed.
The Evolis Badgy Single Sided Printer model number is B22U0000RS.
Evolis Badgy200 Card Printer Specifications

Part Number
B22U0000RS
General features
Single-side print module
Color sublimation, monochrome thermal transfer
300 dpi printing
2 million colors
16 MB of memory (RAM)
Printable area: edge-to-edge

Printing speed
Color (YMCKO): 38 sec/card - 95 cards/hour
Black: 11 sec/card - 325 cards/hour

Connections
USB 2.0 (USB 1.1 and 3.0 compatible)

Regulatory compliance
Extended standby mode and reduced electricity consumption
Erp 2009/125/EC
CE, FCC, VCCI, BIS, CCC, KC
RoHS

Electrical
Power supply unit: 100-240 V AC, 50-60 Hz, 1.8 A
Printer: 24 Volts DC, 3 A

Printer driver
Windows® XP, Vista 32/64, W7 32/64, W8 32/64
Mac OS X 10.6, 10.7, 10.8, 10.9

Card Management and Feeders
Card feeder capacity: 25 cards (0.76 mm) to 40 cards (0.50 mm)
Output hopper capacity: 25 cards (0.76 mm) to 40 cards (0.50 mm)
Card thickness: 0.50 to 0.76 mm, automatic adjustment of the gauge
Card type: PVC cards
Card format: ISO CR-80 – ISO 7810 (53.98 x 85.60 mm)
Included in the original package: Pack of 100 PVC cards 0.76 mm

Ribbon type
Included in the Badgy200 packaging: 1 YMCKO printer ribbon for 100 prints
Automatic recognition and configuration
Ribbon inserted in a cassette for easier handling

Environmental
Min/max operating temperature: 15° / 30° C (59° / 86° F)
Humidity: 20% to 65% non-condensing
Min/max storage temperature: -5° / +70° C (23° / 158° F)
Storage humidity: 20% to 70% non-condensing
Ventilation in operation: free air circulation

Warranty
1 year (printer and print head)

Software
Supplied with: Evolis Badge Studio® + (Advanced version with import from databases)
Compatible with Windows and Mac

Printer dimensions & weight
Complete packaged solution:
Dimensions (H x W x D): 315 x 385 x 285 mm (12.4" x 15.15" x 11.22")
Weight: 3.95 kg (8.7 lbs)

Printer
Dimensions (H x W x D): 147 x 200 x 276 mm (5.78" x 7.87" x 10.86")
Weight: 1.7 kg (3.74 lbs)

Evolis Badgy200 Package Contents
Badgy200 printer
Color ribbon (YMCKO) 100 prints
100 blank PVC cards 0.76 mm (30 mil)
Installation CD including print driver, card templates, Evolis Badge Studio +software (Advanced version)
Power supply unit and cable
USB cable

Evolis Badgy – All-in-One Card Printer is Perfect for Low-Volume Jobs
Ideal for schools, gyms, and small offices, Badgy comes with everything you need to start printing right out of the box - making it one of the first all-in-one card printers for low-security environments. What an awesome concept to find everything you need to produce a card in your Badgy box!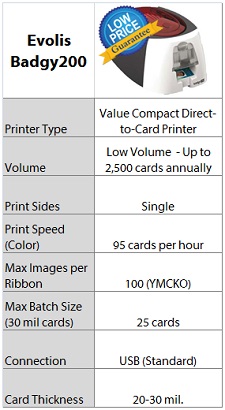 Badgy200 - New and Different
Evolis recently revamped the Badgy. Now called the Evolis Badgy200, this printer looks more like the other Evolis card printer models. Also changed is the large 100 card input hopper - in its place is a 25 card input and output hopper which is still sufficient for low-volume printing. Another big change is the card surface coverage. Badgy200 now prints edge to edge, like its higher-end counterparts.

Great for Simple, Low-Security Card Printing
Though Badgy200 will print at 300 dpi, don't expect to get the same card surface coverage as you would from a higher-end printer. Badgy200 ships with the new Badgy Design Studio +. Not only does this software come with plenty of predesigned templates, but it allows you to connect to an Excel document as well giving you the power of importing your database. The software allows you to design simple, but professional-looking ID card without higher-end security options like magnetic stripe or smart card encoding.

Speed and Ribbon Choices
Badgy200 uses a 100-print YMCKO color ribbon or a new 500-print monochrome black ribbon. The original version of the Badgy didn't have a monochrome ribbon available. This will open up options for using preprinted card stock in addition to a number of other ideas.

As for the print speed, by today's card printer standards you will need to have patience. Using the full-color YMCKO ribbon, you're looking at about 38 seconds a card or 95/hour. Monochrome, on the other hand, is faster at 11 seconds per card.

For faster print speeds, you may want to consider the Zenius or Primacy models. Evolis Badgy200 allows you to print on either 20 mil or 30 mil CR80 card stock.

Works with Multiple Operating Systems
Like the rest of the Evolis line, Badgy200 drivers and design software will work with both the full suite of Windows - from XP to Win 8 - as well as the Mac OSX.

Standard Warranty Can Be Upgraded
Badgy200 comes standard with a 1 year warranty, but you also have the option to upgrade to up to 3 years for extra piece of mind. Other Evolis models come with longer standard warranties. Interested in upgrading your Badgy200 warranty? Contact an ID Expert at 877-868-0012 for details.

Note: Evolis also offers the lower Badgy100 model which leaves a white border around every printed card and offers a much lower print quality and surface coverage. Badgy200 also ships with an upgraded version of Badgy Design Studio. Badgy100 does not.

The full Badgy review was written by ID Expert, Jeramie Ivie. As ID Card Group's resident Tech Specialist and Custom Card Print Manager, Jeramie literally prints thousands of cards each month for a wide-variety of customers. He has seen it all and offers a practical view of card printers.
Still looking for the perfect card printer? See all our card printer reviews or contact an ID Expert at 877-868-0012 for more advice. We make it easy!