Slot punching cards make them easier to attach to ID accessories, but if you aren't careful you can break your prox card or even your ID card printer! Our experts explain how to slot punch your cards.
Why Slot Punch Cards?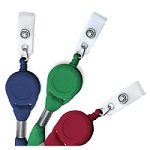 Slot punching a card makes it easy to use with ID accessories like lanyards and badge reels that need a hole to clip through. Using a lanyard or reel keeps your cards visible while people are in your building, and if you need to scan or swipe cards throughout the day they also keep the cards close at hand.
If you don't want to slot punch the cards, you can always place the prox cards in a badge holder which then attaches to a lanyard or reel.
How to Slot Punch Prox Cards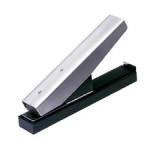 To slot punch your prox cards you just need a card slot punch, your prox cards, and some attention to detail.
Prox cards have a system of copper antennas embedded within the card – if you slot punch in the wrong spot and cut through those wires you will break your card and it will no longer communicate with the card readers.
To prevent this, the manufactures mark WHERE to slot punch, with an option for both horizontal and vertical cards in most cases. You should ONLY slot punch in these designated spots, otherwise you risk breaking the card.
In the drawing to the left, the marks on the top and side show where you can safely slot punch the card. Most cards mark these locations with small dots on the back of the card, so if your cards do not have these punch guides they may not be safe to slot punch – call us if you need help before you break your cards!
Alternatively, you can order your prox cards pre-punched from the manufacturer when you place your order! This will only work if you do not plan on printing on the cards yourself – printing on a pre-punched card can damage the printhead.
Questions?
For help finding the best prox cards for your access control system, contact our expert sales staff at (877) 868-0012 or sales@idcardgroup.com. We're happy to walk you through your card programming and appearance options.
ID Card Group offers a price match guarantee, provides free shipping on orders over $100, and accepts purchase orders.