What Others Are Saying about ID Card Group's Service, Selection, and Value!
Special thanks to all our customers for taking our surveys and sharing your ratings and comments with others!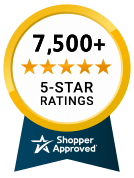 "I had a question and emailed your company. I got an answer the same day. Great customer service." – Shirley F
"Customer service was very helpful. He assured me the cards will work with our system. I will order from you again!" – vicki w
"Customer service and Sales were very helpful in finding the proper solution for us." – Donald R
"Spoke with Jeremy on the phone and he was awesome! Ordered was received promptly. Great experience!" – Carlos G
"Thanks for having what I need in quantities that work for me." – Jeffrey M

"Every order, since iCAM has been a customer, 8 years, always great service, support and shipping." – Anonymous Customer
"Cordial and friendly staff who answered all questions in a professional and helpful manner." – Natalie F
"Also talked with Dwight and found him most helpful. Wish I had found you folks earlier." – Kit
"Good over the phone advice." – Anonymous Customer
 
"I love ID Card Group! Great customer service every time I call. The rep who assisted me last year with questions about the EVOLIS printer helped me greatly when I was in a bind and was so nice. I will always use this company if I need anything badge related. Jeremie who did our badge lanyards was nice as well! 🙂 Promptly returned my call." – Shannon H

"This is my first order. When I called customer service with questions, I was extremely pleased with the help I got." – Mary R
"Great Prices and very quick and easy to find what I was looking for and complete order." – Barbie
"Exactly what we were looking for in the quantities we were searching for! Quick, easy, great place to shop!" – Jill
"Thank you for the great service that you have always given me on my orders. Also, you always have the best prices when I need to order my stock." – LORETTA R
"Easy to order everything i need from one site."- Maria V
"This is my first order. When I called customer service with questions, I was extremely pleased with the help I got." – Mary R
"Great website and great staff" – Sumair

"Your website is extremely easy to use and your selection is an outstanding value. The delivery time was outstanding. I couldn't believe the order arrived so quickly. Thanks very much!" – Susan M. W
"Appreciate the free shipping! And you guys always ship fast and with no damage. So, we will remain a customer of ID Card Group."  – Deborah B
"The ability to login and reorder based on similar past order is awesome. Saves me lots of time, and assured that I am ordering the correct items. Thanks."  – Steve
"Found what I needed really fast. Thanks for having what I needed when no one else had it."  – Sabrina M
"These were the most affordable lanyards I have found on the internet, everything is clear and easy to use. thank you so much!."  – Jennifer F
"Have tried multiple other sites this was a dream!" – Sugar R

See All Ratings & Reviews from Shopper Approved

Read more customer reviews from Shopper Approved here or on our Facebook page.
Thank You Again!

We strive to provide the best service, selection, and prices in the identification (ID) marketplace – and value you sharing your comments and ratings.
Questions?
If you need help choosing the best ID printers and supplies for your needs, call our ID experts at 877-868-0012 or sales@idcardgroup.com. We'll make it easy for you! 
ID Card Group offers a price match guarantee, provides free shipping on orders over $100, and accepts purchase orders.