Evolis has reformulated its YMCKO color ribbons for the popular Primacy card printer.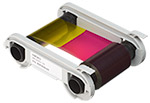 Now you can print more images, text, and barcodes per ribbon roll – up to 300 – at a reduced cost-per-card.
And the Primacy High-Trust YMCKO ribbons have a cassette made of 100% recycled material. The cassette and core are also recyclable, helping to reduce environmental impact.
Evolis R5F008AAA color ribbons add a clear overcoat layer that protects your cards from abrasion and wear and tear. Plastic cards printed with the Evolis R5F008AAA can be used for up to 3 years, even with frequent use. The Evolis R5F008AAA ribbon replaces Evolis R5F005AAA.
Save 20% off retail prices when you purchase the new Evolis Primacy YMCKO ribbon at IDCardGroup.com
The ID Card Group Advantage
As an authorized Evolis printer dealer, ID Card Group has deep technical knowledge from years of experience working with customers who use an Evolis card printer; printing systems; and supplies, including Evolis color ribbons, monochrome ribbons, Evolis cleaning kits, eMedia software, and printer covers and carrying cases.
Questions?
If you want more information on Evolis ribbons – or need additional help choosing the best ribbons for your organization's needs, call our ID experts at 877-868-0012 or sales@idcardgroup.com. We'll make it easy for you!