If you need to print only 200 cards or less per year – Evolis' newest printer is for you!
The Evolis Badgy – Affordable All-in-One Printer
Introducing the New Evolis Badgy All-in-One Printer
The Evolis Badgy comes with everything you need to start printing – right out of the box.
Each Badgy printer ships with an all-in-one kit containing:
20 Mil plastic cards
YMCKO color ribbon
Card personalization software
Cleaning kit
Easy Supply Reordering

It's easy to get all the supplies you need each year with the Badgy's prepackaged supply kits. Choose from three different kits – all designed to keep you printing at an affordable cost:
Badgy Supplies Kit – 20 mil Cards
20 mil. thickness cards are perfect for ID card applications that don't need special coding or ID data, such as business cards, membership cards, or loyalty cards. Note: This original kit has been discontinued, but the contents are available separately:
Badgy Supplies Kit – 30 mil cards
30 mil. thickness is the most widely-used size of plastic cards for ID badges, credit cards and ID cards in the world.
YMCKO color printer ribbon
100 standard white blank cards (30 mil.)
Cleaning kit
Badgy Supplies Kit – Ribbon & Cleaning Kit
1 YMCKO color printer ribbon (capable of printing 100 cards)
Cleaning kit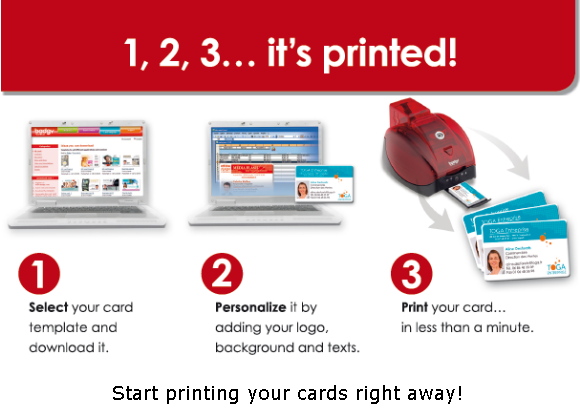 Note: Evolis coupon savings do not apply to the affordably priced Evolis Badgy.
The ID Card Group Advantage
As an authorized Evolis printer dealer, ID Card Group has deep technical knowledge from years of experience working with customers who use an Evolis card printer; printing systems; and supplies, including Evolis color ribbons, monochrome ribbons, Evolis cleaning kits, eMedia software, and printer covers and carrying cases.
Questions?
If you want more information on the Badgy printer – or need additional help choosing the best ID card printer for your organization's needs, call our ID experts at 877-868-0012 or sales@idcardgroup.com. We'll make it easy for you!
ID Card Group offers a price match guarantee, provides free shipping on orders over $100, and accepts purchase orders.