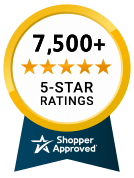 We're sending out a big THANK YOU to all of our customers whose ratings and reviews helped us to earn our 1,750 ratings milestone award from Shopper Approved.
We appreciate you all taking the time to rate your shopping experience with us and leave comments.
Sharing a Few Shopper Approved Rating & Review Comments
"Appreciate the free shipping! And you guys always ship fast and with no damage. So, we will remain a customer of ID Card Group."  – Deborah B
"The ability to login and reorder based on similar past order is awesome. Saves me lots of time, and assured that I am ordering the correct items. Thanks."  – Steve
"Every time I come to this website I am able to find what I am looking for in a matter of mins."  – Gladys P
"Found what I needed really fast. Thanks for having what I needed when no one else had it."  – Sabrina M
"Quick and Easy. Excellent reorder function."  – Neil J
See All Ratings & Reviews from Shopper Approved

Read more reviews from Shopper Approved here or on our Facebook page.
Thank You Again

We strive to provide the best service, selection, and prices in the identification (ID) marketplace and value your comments and ratings.
Thank you!