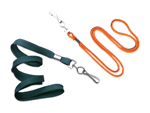 An ID Lanyard – also called a neck lanyard, badge lanyard or neck strap – is an essential accessory for anyone who carries an ID card, name tag, badge, membership card, keycard, or smart card.
And thanks to Lanyard holders and attachments, you can easily carry a cell phone, usb drive, flash drive, or a set of keys without needing a purse or pocket!
Over 300 new styles in inventory – Stock up on your bulk lanyards now!
Our basic, best-value lanyards. Flat braid or round woven nylon material, offered in a multitude of colors and designed with breakaway or non-breakaway technology.
Customized lanyards are great for college, school or university lanyards; nurse or medical lanyards, military or army lanyards, conference lanyards. Also fun for marketing and team building. Choose your colors, material, and attachment type.
Have fun and show your style with beaded and elastic cord lanyards for your badges, cell phones, or keys.
Neck Chain lanyards offer high quality at a low cost. Silver, gold, and colored chain lanyards are great for trade shows, conferences, events, meetings, and seminars. Lightweight yet strong – in multiple colors and lengths. 
A safer way to display ID badges and cards. Quick-release clasp ensures safe disconnect if caught or under pressure. Huge selection of affordable styles from standard to high-security.
Go green with recycled plastic lanyards and bamboo lanyards. Environmentally and earth friendly choices. Great for schools, conventions, hospitals, security IDs,  and more. 
Printed lanyards help promote a worthy cause or quickly identify facility staff, visitors, volunteers, contractors, or temporary employees. 
Our popular patriotic lanyards come in two designs: Support our Troops or Stars & Stripes. Three styles, break-away technology and NPS swivel hook attachment.
Now you can conveniently carry more than just an ID badge — cell phones, keys, USB drives, whistles, and more.
Contact our expert sales staff at (877) 868-0012 or sales@idcardgroup.com for help choosing the best neck lanyard to fit your needs.
ID Card Group accepts purchase orders, offers free shipping on orders over $100, and a price match guarantee.