The Zebra ZXP 3 card printer is a compact – yet professional – direct-to-card printer for volumes up to 5,000 cards annually.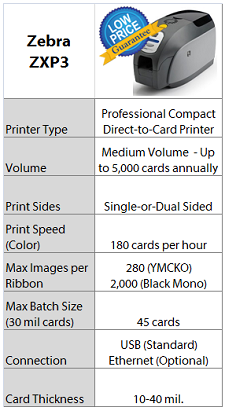 ZXP3 Major Enhancements

Recently enhanced, the ZXP3's major improvements have to do with its card thickness (mil) and ribbon capabilities.
Wider Range of Card Thickness
The Enhanced ZXP3 has the ability to print PVC cards in a wide range of thicknesses – from 10 mil up to 40 mil – and its card feeding capabilities have improved as well.
The less thick cards (10 -20 mil) are typically used for business, loyalty or membership cards – those not needing encoding or a lot of data. 10 mil cards are used for monochrome printing and 20 mil for color printing.
30 mil cards are standard thickness and the most common type of plastic card used for ID badges, credit cards, and gift cards.
Though rarely used, 40 mil cards are the most durable card available for industrial environments or specific types of smart cards.
Higher Capacity Ribbons
New larger capacity ribbon cartridges enable the Enhanced ZXP3 to print more cards – whether in color or monochrome:
Note: The new high volume ZXP3 ribbons can be used in both Enhanced and Legacy ZXP3s.  However, Legacy ZXP3s must be updated with the latest firmware in order to work with the new ribbons.  The original ZXP3 ribbons work in both the Enhanced and Legacy versions of ZXP3 – so if you have a large ribbon supply you can continue to use them with the Enhanced ZXP3 – however your volume of cards printed will be lower.
Now With Print Touch™ – Near Field Communication (NFC)
The Enhanced ZXP Series 3 printer now includes Print Touch™, an embedded Near Field Communication (NFC) chip and software.
Now you can read key printer information and launch web-based help pages by simply holding your NFC-enabled smartphone up to the Zebra Print Touch logo on the printer.
Read Our Review of the ZXP3 Printer
See what our expert reviewer has to say about the Zebra ZXP3 card printer here.
The ID Card Group Advantage
As a Zebra Premier Partner, ID Card Group can offer all Zebra card printers and Genuine Zebra Color Ribbons and Monochrome Ribbons, Zebra PVC Cards, and Zebra Cleaning Supplies & Kits with the full technical support team at Zebra standing behind us – and we are able to do this at the lowest possible cost to you.
Questions?
If you need additional help choosing the best ID card printer for your organization's needs, call our ID experts at 877-868-0012 or sales@idcardgroup.com. We'll make it easy for you!
ID Card Group offers a price match guarantee, provides free shipping on orders over $100, and accepts purchase orders.