The Fargo DTC4500 is a high-level printer/encoder with an optional laminator module. The DTC 4500 is ideal for organizations needing to produce high-security ID cards and badges in high volumes.
Fargo is owned by industry leader HID Global. Watch this short video overview to learn more.
[youtube:As6HQNruMEM]
Fargo's DTC4500 Printer

Prints a high volume of cards quickly and with versatility – either single or dual-sided
Encodes data for magnetic stripe and contact or contactless smart cards
Offers built-in USB and Ethernet connectivity
Provides greater capacity with a standard dual input hopper capable of holding 200 cards
Comes with password-protection for preventing unauthorized printing
Prints fluorescent images as well as holograms for extra security
Adds durability and tamper resistance with optional single or dual-sided simultaneous lamination
Fully compatible with Asure ID® card softwarefor badge design, database management and technology card encoding
Earth friendly EnergyStar® certification for efficient energy consumption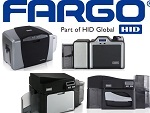 Shop Fargo DTC4500 Card Printer, Ribbons & Supplies – at Best Prices
Questions?
If you need more information on the DTC4500 printer – or want additional help choosing the best Fargo/HID printer for your organization's needs – call our ID experts at 877-868-0012 or sales@idcardgroup.com. We'll make it easy for you!
ID Card Group offers a price match guarantee, provides free shipping on orders over $100, and accepts purchase orders.