ID card accessories may seem like an after-thought, but making your cards easy to use is just as important as how you design and print them! Shop the most popular ID accessories at ID Card Group.
ID Card Lanyards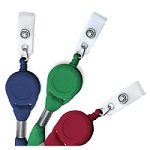 Lanyards come in a wide range of colors, widths, and attachment types, making it easy to find the perfect lanyard for your organization's needs.
ID Badge Reels
Badge reels are just as convenient as lanyards, and make it easy to keep an ID card out of the way while you work because the retractable cord stays wound up when you aren't actively pulling on the ID card.
ID Card Holders
Often used alongside lanyards and badge reels, an ID card holder helps protect your cards and extend their lifespan so you won't need to replace them as often.
Questions?
Contact our expert sales staff at (877) 868-0012 or sales@idcardgroup.com for help choosing the best ID accessories to fit your needs.
ID Card Group accepts purchase orders, offers free shipping on orders over $100, and a price match guarantee.