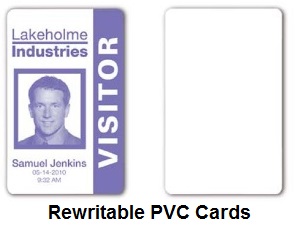 Looking to reduce waste and cut down on ID card supply costs? Rewritable PVC card stock may be for you.
Rewritable plastic PVC cards offer the remarkable ability to erase and rewrite ID cards multiple times – making rewritable stock rewritable ID cards popular for printing on the back of:
Event tickets
Membership cards
Conference credentials
Student IDs

Rewritable cards are great for conventions and conferences, customer loyalty card specials, library card information, school athletic schedules, visitor information, and much more.
Choose from:
Works with Any Rewritable Plastic Card Printer
Best of all, rewritable card stock works with any rewritable plastic card printer!
Each PVC card is standard credit-card sized (CR80/30-mil thick) with a rewritable surface on one side and pvc thermal printable surface on the other side.
How Rewritable Printing Works
Using special rewritable card stock, ID card printers with rewritable technology can write, erase and rewrite text and images hundreds of times in single-color (monochrome) blue or black print.
Rewritable cards have one glossy side in PVC for color/monochrome dye sublimation printing and a matte finish rewritable back side with a blue or black thermo chromic material that can be printed for up to 500 rewrite cycles, depending on the card chosen.
Shop all PVC card stock – including generic and name brand stock – in popular sizes and styles.
Questions?
For help choosing the right card to fit your needs, contact an ID expert at (877) 868-0012 or sales@idcardgroup.com. We'll make it easy for you!
ID Card Group offers a price match guarantee, provides free shipping on orders over $100, and accepts purchase orders.