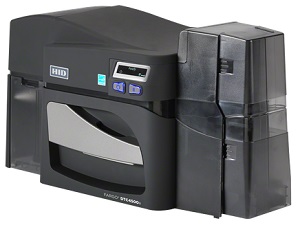 Looking for high performance, production, and security with a small footprint? The new Fargo DTC4500e ID card printer should be on your short list.
Number 1 Choice for Large Corporations & Government Institutions
Large corporations, government institutions, and the like that need sophisticated and secure card applications will find the DTC4500e a robust and reliable printer for personalizing and programing technology cards in high volumes.
The 4500e is the only DTC model that offers a lamination module and locking input/output hoppers for high-level security.
Lamination Option Fights Forgery
Lamination produces tamper-proof, secure cards that resist forgery. With a unique, high speed dual-sided simultaneous lamination module, the DTC4500e saves you valuable print time.
Not sure that you need lamination now? You can easily add the lamination module later.
Although the printer is big, it has a fairly small footprint because Fargo placed the optional laminator unit on top – rather than next to the printer, which has been the standard configuration.
Extra Security with Locking Hoppers, Password Protection & UV Printing
The DTC4500e guarantees secure printing with:
Built-in printer password protection
Fluorescent ribbons for Ultra-Violet (UV) printing
Optional locking hoppers to protect blank PVC card stock and printed/encoded cards
High Capacity Hoppers & Ribbons – Good Speeds for its Size
With its high-capacity 200 card dual-input card hopper and ECO card printer ribbons, the DTC4500e is a printing powerhouse.
Due to the lamination feature however, the DTC4500e does not print a full color card in 16 seconds – as do its relatives the DTC4250e and DTC1250e. Laminated cards take longer for the additional overlay run – plus the cards also travel a fair distance further with the laminator unit configured on top.
Configurable for Different Card Stocks
While the DTC4500e is configurable for different card stocks, use of the laminator unit limits you to a 30 mil card stock.
I would highly suggest a composite card stock due to the heat of the laminator.  I would also caution against the use of adhesive cards with respect to the aforementioned heat.
Easy Integration & Field Upgradable WiFi
With built-in standard Ethernet and USB connection, the DTC4500e allows for centralized or remote ID card issuance. And with the new WiFi Accessory module, your DTC4500e can print from anywhere, anytime.
While everyone else is offering WiFi now, Fargo has made WiFi field upgradeable for any Fargo DTC printer with an ethernet option. Fargo DTC4500e printers come equipped with Ethernet (and USB), so you can add the WiFi feature at any time.
Eco-Friendly Ribbons
The Fargo DTC 4500e can use standard or refillable Eco printer ribbon cartridges, which is a great way to reduce the amount of waste with each ribbon use.
Multiple Encoding Options
The DTC 4500e printer offers a long list of encoding options from your standard mag encoding to MIFARE – as do its relatives the DTC1250e and DTC4250e:
ISO magnetic stripe encoding, dual high- and low-coercivity, Tracks 1, 2 and 3
Smart card encoding: 125 kHz (HID® Prox) reader; 13.56 MHz (iCLASS® Standard/SE/SR, MIFARE Classic®, MIFARE Plus®, MIFARE DESFire®, MIFARE DESFire® EV1, ISO 14443 A/B, ISO 15693) read/write encoder
Contact smart card encoder reads from, and writes to, all ISO7816 1/2/3/4 memory and microprocessor smart cards (T=0, T=1) as well as synchronous cards
All models include a 3 year warranty. The DTC42500e and DTC4500e also include a first year On-Call Express™ (loaner printer, U.S. Only)
The ID Card Group Advantage

As an authorized Fargo/HID printer dealer and service provider, IDCardGroup.com has years of experience working with customers who use Fargo/HID printers, cleaning supplies, and kits. Not only do we have a deep technical knowledge of Fargo/HID card printers, but we also maintain the best prices guaranteed! We carry the full line of Fargo/HID products, including card printers, color ribbons and monochrome ribbons.
Questions?
If you need more information on the DTC4500e printer – or want additional help choosing the best Fargo/HID printer for your organization's needs – call our ID experts at 877-868-0012 or sales@idcardgroup.com. We'll make it easy for you!
ID Card Group offers a price match guarantee, provides free shipping on orders over $100, and accepts purchase orders.