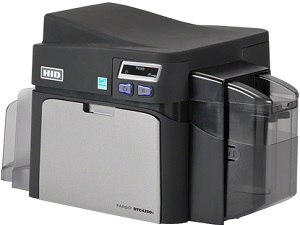 This versatile Fargo DTC 4250e card printer can produce large quantities of extremely durable credentials both quickly and easily – from basic plastic loyalty and photo ID cards to more sophisticated high-security access cards with embedded electronics.
Classified as a standard volume printer, the powerful Fargo DTC4250e can be easily upgraded in your office as your needs change – making it a perfect choice for small to mid-size businesses, schools, and local government agencies.
More Versatile, Higher Security
The DTC4250e printer is fully compatible with HID Global Asure ID software and offers a Color Assist tool that can help you match spot colors, ensuring accurate reproduction of such complex graphics as company logos or employee photos.
The 4250e doesn't offer lamination (if you need that, consider the DTC4500e), which means you will have more card sizes available. It also offers a dual input hopper as an upgrade.
Offering an erase and rewrite card feature, the DTC 4250e is ideal for creating temporary ID cards, such as visitor badges.
Looking for extra in-house security? The DTC4250e features new security enhancements, such as:
Fluorescent panel printing
Embedded iCLASS SE smart card encoder
AES-256 data decryption for protection of financial information
The DTC4250e can also be password protected so only approved operators can print and encode security cards and visitor badges
Fargo's Standout Year
This year, Fargo raised the bar when it introduced the DTC4250e along with its relatives the DTC1250e and DTC4500e. We're essentially looking at the same printer base in all models with added features to handle specific needs.
What makes this 2014 lineup so special? A couple things stand out: 1) Speed and 2) Field upgradable WiFi
Blazing Card Print Speeds
Fargo has definitely upped the ante on speed. Last year's models spit out a full color card in a respectable 24 seconds – just like the rest of the herd. The new lineup has taken it to the next new plateau – 16 seconds/card for full color, single side. That's 225 cards an hour.  BAM!  They have nearly cut the print speed in half!
And sure enough the print still looks good. Kudos to Fargo/HID.
If you're looking for dual-sided cards, there is a dual sided printing option available – which can be added now or after your initial purchase of a Fargo DTC4250e.
Field Upgradable WiFi
While everyone else is offering WiFi now, from Zebra to Evolis, Fargo is making WiFi field upgradeable
for any printer with an ethernet option, which is also field upgradable.
The DTC 4250e comes standard with USB only, but ethernet is "enableable" – you will need to enable that option if you did not purchase it originally and would like to upgrade to WiFi.
Eco-Friendly Ribbons Available
The Fargo DTC 4250e also has a bit of flexibility with ribbons. It can use the standard bulky Fargo ribbon cartridge or a refillable Eco cartridge, which is a great way to reduce the amount of waste with each ribbon use. Be sure to ask for the Eco cartridge ribbons by name – for some reason it's still somewhat of a secret option.
Multiple Encoding Options
The DTC 4250e printer offers a long list of encoding options from your standard mag encoding to MIFARE – as do its relatives the DTC1250e and DTC4500e:.
ISO magnetic stripe encoding, dual high- and low-coercivity, Tracks 1, 2 and 3
Smart card encoding: 125 kHz (HID® Prox) reader; 13.56 MHz (iCLASS® Standard/SE/SR, MIFARE Classic®, MIFARE Plus®, MIFARE DESFire®, MIFARE DESFire® EV1, ISO 14443 A/B, ISO 15693) read/write encoder
Contact smart card encoder reads from, and writes to, all ISO7816 1/2/3/4 memory and microprocessor smart cards (T=0, T=1) as well as synchronous cards
All models include a 3 year warranty. The DTC42500e and DTC4500e also include a first year On-Call Express™ (loaner printer, U.S. Only)
Start Printing Out of the Box with a DTC4250e Starter Kit
ID Card Group makes it simple for you to start your ID card program. Just order a Starter Kit and you can easily begin producing professional-looking ID cards using your Fargo DTC4250e printer right away. The Starter Kit includes:
Fargo DTC4250e Printer (any configuration)
1 single-sided color ribbon at 250 images (YMCKO – 45100)
300 PVC Cards (CR8030-WH)
1 Cleaning Kit (IDCG-CK-5)
Webcam
The ID Card Group Advantage

As an authorized Fargo/HID printer dealer and service provider, IDCardGroup.com has years of experience working with customers who use Fargo/HID printers, cleaning supplies, and kits. Not only do we have a deep technical knowledge of Fargo/HID card printers, but we also maintain the best prices guaranteed! We carry the full line of Fargo/HID products, including card printers, color ribbons and monochrome ribbons.
Questions?
If you need more information on the DTC4250e printer – or want additional help choosing the best Fargo/HID printer for your organization's needs – call our ID experts at 877-868-0012 or sales@idcardgroup.com. We'll make it easy for you!
ID Card Group offers a price match guarantee, provides free shipping on orders over $100, and accepts purchase orders.