Wanting to add a little sparkle and glitter to your ID program? Check out these fun and sparkly rhinestone and metallic thread woven lanyards!
Both styles are 36″ long, sturdy, and guaranteed to stand out in a crowd.
Sparkly Rhinestone Lanyards
Our rhinestone lanyards are flat lanyards featuring two rows of sparkling rhinestones in six color choices:
Blue
Clear (crystal)
Pink
Black
Red
Purple
Made to last, they feature a top-notch quality design and sturdy lobster claw attachment for use with a wide variety of ID badge holders and key rings.
Metallic Silver Thread Lanyards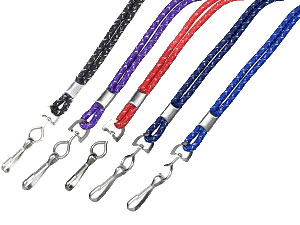 These glittery round braid lanyards are woven with metallic silver and colored threads to add extra sparkle. Made of braided nylon, these lanyards are sturdy – yet flexible and refined at 1/4 inch round with a handy swivel type hook to ensure your ID is always front and center.
Choose from five fun color choices:
Black
Royal blue
Navy blue
Black
Purple
Shop All Lanyard Styles
Looking for a more basic or specific-use lanyard? You'll find many styles, designs, and color choices at IDCardGroup.com – all at best prices guaranteed!
Questions?
Contact our ID experts at 877-868-0012 or sales@idcardgroup.com for help. Whatever your needs – we'll help you choose the lanyard that's right for you.
ID Card Group offers a price match guarantee, provides free shipping on orders over $100, and accepts purchase orders.