The Evolis Quantum ID card printer – a powerhouse choice for high-volume card printing – has been updated to offer better productivity and convenience.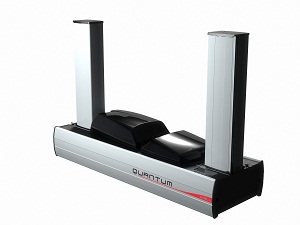 Based on feedback from users and partners, Evolis focused key improvements on two areas: the card hoppers and the card feeding mechanism in order to get a better performance with slightly bended cards.
Card Hopper Improvements
Redesigned hopper doors – enable you to load or remove cards without having to detach the hopper feeders from the printer
Modified feeder weight – makes feeder handling easier (magnet-based holding and improved weight mobility within the hopper)
Sturdy alloy locking pins – now made of Zamac instead of plastic, the alloy pins make the printer even more robust. The locking pins are located at the base of the hoppers.
Redesigned loading system allows you to load slightly bended cards more easily
More efficient push/pull access of the encoding module
A cleaning card can now be placed on the feeder, without having to insert it in the hopper
Allows use of cards with a thickness of 0.76 mm (30 mil) to 1 mm (40 mil), with automated gauging
Save 10% on Evolis Printers through Dec 31, 2011
Save 10% on the improved Evolis Quantum – or any Evolis card printer – now through December 31, 2011.
Enter coupon code EVOLIS10 at checkout.
The ID Card Group Advantage
As an authorized Evolis printer dealer, ID Card Group has deep technical knowledge from years of experience working with customers who use an Evolis card printer; printing systems; and supplies, including Evolis color ribbons, monochrome ribbons, Evolis cleaning kits, eMedia software, and printer covers and carrying cases.
Questions?
Contact our expert sales staff at (877) 868-0012 or sales@idcardgroup.com for more information on the improved Evolis Quantum or any Evolis card printer. We'll help you choose the best ID printer to fit your needs.
ID Card Group offers a price match guarantee, provides free shipping on orders over $100, and accepts purchase orders.