ID Card Group carries the widest variety of ID card printers and products at the best prices – and we want to help you find the best system for your ID card printing needs. Get a free recommendation from an ID expert today!
Free Recommendations from an ID Expert
At ID Card Group, our card printing experts have years of training and experience working with these printers and supplies. This allows us to help you evaluate your card printing needs and recommend the best products for your organization. Getting the help of an ID expert is now even easier with our Free Recommendation form!
Just answer a few questions, and get a FREE personalized ID card system recommendation. We'll just need to know:
How many cards do you plan to print per year?
Do you want to print single-sided or dual-sided cards?
Do you want magnetic stripe cards?
With this information we can start evaluating your needs and finding the best systems for you! Get your FREE recommendation today.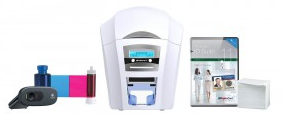 Shop the Best ID Products on ID Card Group
Get all the best ID card printers, software, and supplies at ID Card Group:
And more!
Questions?
Get your FREE recommendation or contact our expert sales staff at (877) 868-0012 or sales@idcardgroup.com for help choosing the best ID printer to fit your needs.