HID 1346 ProxKey III KeyFob - Qty 100
HID 1346 ProxKey III KeyFob - Qty 100
Part Number#: 1346
The HID 1346 Prox Key III is an RF programmable access control Keyfob that features a 125 kHz transponder, up to 12" read range (with Maxi Prox reader), lightweight .26 oz design, 137 billion codes, and rugged ABS shell. Standard 26-Bit/H10301 Format. Need a different format? Call the HID Experts at 877-868-0012 today for a customized quote.
NOTE: Custom Programmed fobs ship in 2-3 weeks.
Try HID Compatible Fobs
Only

$3.29

per fob

SEE SAVINGS
Please Note: ID Card Group does not accept returns on proximity cards.
HID 1346LNSMN is a 125 khz proximity key fob that offers increased secure access control to your site with the convenience of a key system. These HID 1346 Key Fobs can be custom programmed specifically for your site.
Custom Programming - To order custom programmed key fobs, enter your organization's personalized facility codes and/or sequential card numbers in the Option Menu. HID-Branded fobs require a programming lead time of 2-3 weeks.

If you have any questions about ordering your HID Prox KeyFobs, check out our handy blog posts "How to Program an HID Prox Card" and "HID Prox Card Programming Checklist" - this information applies to access cards as well as key fobs. Or contact us at 877-868-0012 - We are HID Prox Experts!

Please Note: ID Card Group does not accept returns on proximity cards.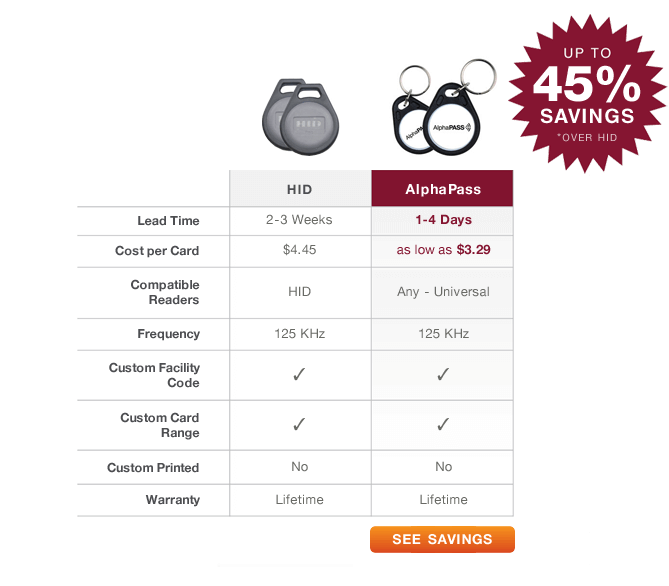 HID1346 ProxKey Product Information:
HID1346 ProxKey III is an RF-programmable proximity keyfob that incorporates standard 125 khz proximity technology into a rugged, convenient device approximately the size of an automotive key. The durable ProxKey fob is compatible with any HID reader, features a life time warranty, and uses the same programming logic as all HID Prox Cards. HID 1346 ProxKey Keyfob Quick Facts:

Small enough to fit on a key ring for convenient facility entry.
Durable design that holds up to rugged conditions.
Universal compatibility with HID proximity readers.
External number for easy identification and control.
Supports formats up to 85 bits, with over 137 billion codes.
Lifetime ProxKey III card warranty.



If you need to customize your HID proximity keyfobs with special formats, please contact the HID Experts at 877-868-0012.

HID 1346 ProxKeyII KeyFob Specifications:
Description: RF-programmable, 125 kHz, black with grey insert, customer-specified ID Numbers

Typical Maximum Read Range: (dependent on local installation conditions)
ProxPoint® Plus reader up to 1.5" (3.7 cm)
MiniProx™ reader up to 2" (5 cm)
ThinLine® II reader up to 2" (5 cm)
ProxPro® reader up to 3" (7.5 cm)
ProxPro® II reader up to 4" (10.2 cm)
Prox80™ up to 2" (5.1 cm)
MaxiProx® reader up to 12" (28 cm)
Dimensions: 1.555 x 1.25 x 0.235 inches max (3.95 x 3.18 x 0.60 cm)
Key Fob Construction: Ultrasonically welded ABS Shell with TPE insert
Operating Temperature: -50° to 160° F (-45° to 70° C)
Weight: 0.14 oz (4.0g)
Memory Size/Application Areas: N/A
HID Proximity 125 kHz: Yes
Contact Smart Chip Module Embeddable: No
Wiegand Stripe: No
Magnetic Stripe: No
Printable: No
Standard HID Artwork: Yes
Slot Punch: Key Ring Hole
Visual Security Options: N/A
Additional Security Options: Corporate 1000
Warranty: Lifetime
**Key Ring sold separately


NOTE: The HID ProxKey design was recently upgraded to increase durability, while keeping the same functionality. The previous ProxKey II design looked like this: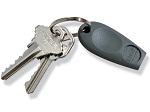 Plastic Wrist Coil w/Key Ring-250 pack
Part#: 2140-630x
PLASTIC WRIST COILS - Colored Plastic Wrist Coil with Split Ring comes in six color choices.
NOTE: Clear (2140-6300) and White (2140-6308) wrist coils must be ordered in large quantities. Contact an ID Expert at 877-868-0012 to order today!
Units: 1
Retail Price: $175.00
Our Price: $140.00
Key Badge Reel w/Chain Cord-25 pack
Part#: 2120-3325
HEAVY DUTY BADGE REEL comes in Black with Chrome Trim and includes a Nickel-plated Split Ring and Chain Cord.
Units: 1
Retail Price: $88.00
Our Price: $70.99