Zebra ZXP1 Printer - Single-Sided
Zebra ZXP1 Printer - Single-Sided
Part Number#: Z11
Zebra ZXP Series 1 (ZXP1) Single-Sided Card Printer with optional magnetic coding and Ethernet connectivity offers reliable low-volume plastic card printing at an affordable price. Zebra ZXP 1 is a great entry-level Zebra card printer. Make it a Complete System so you can use your Zebra ZXP1 right out of the box!
The Zebra ZXP Series 1 is an affordable entry-level card printer that replaces the popular Zebra p100i model and features 15% faster print speeds, 100-card feeder, the ability to print on a wider range of card thicknesses, and easier out of the box setup.

ZXP1 is a single-side, full color card printer that has been designed for low volume printing needs – perfect for anyone who needs to print 10-15 plastic cards per day and who doesn't need smart card encoding. Key benefits include:

Affordable, Entry-Level Printing
Single-sided, low-volume printing
Prints high-quality ID cards and badges
Easy-to-order options
Supports 10 – 40 mil cards for card printing flexibility
Easy-to-use Features
Color touch points and informative LCD operation screen
Eco-friendly Load-N-Go ribbon cartridges
Project ready – Easy to integrate, deploy, and manage
Compact size fits in any environment
High-Level Connectivity
Print Monitor Supported
Ethernet optional
Tap your NFC-enabled mobile device to the ZXP1 Print Touch icon (on the side of the printer) to launch Zebra ZXP1 printer support pages.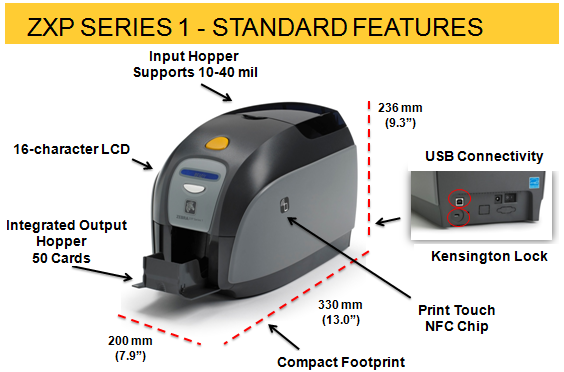 Order your ZXP1 as a Complete System to get started printing ID cards right away. The Complete System includes:
Zebra ZXP Series 1 Single-sided Card Printer
AlphaCare ID Suite Light (ACIS-L11)
Zebra Loan-n-Go Color ribbon-YMCKO 100 prints (800011-140)
100 Blank White PVC CR80 30 mil Cards (ACS-8030PPWH-100)
LogicTech Webcam
Cleaning Kit (105999-302)
Lifetime AlphaCare Support
Popular Zebra ZXP1 Printer Configurations:

Z11-00000000US00 - Zebra ZXP Series 1 Single-Sided Card Printer, USB, US Power Cord
Z11-0M000000US00 - Zebra ZXP Series 1 Single-Sided Card Printer, USB, US Power Cord, Magnetic Encoder
Z11-000C0000US00 - Zebra ZXP Series 1 Single-Sided Card Printer, USB, Ethernet Connectivity, US Power Cord
Z11-0M0C0000US00 - Zebra ZXP Series 1 Single-Sided Card Printer, USB, Ethernet Connectivity, US Power Cord, Magnetic Encoder
Still need help choosing your ID Card Printer? Contact an ID Expert at 877-868-0012.
Zebra ZXP1 Printer Specifications

Printing Specifications
Dye-sublimation thermal transfer direct-to-card
Full color or monochrome printing
Single-sided printing
500 cph monochrome single-sided
120 cph single-sided YMCKO
Edge-to-edge printing on standard CR-80 media
Standard Features
Eco-Friendly Load-N-Go™ drop-in ribbon ZXP Series 1 cartridges

ZRaster™ host-based image processing

Auto calibration of ribbon

USB connectivity

Microsoft Certified Windows drivers

Energy Star Certified

Print Touch NFC tag for online Printer documentation access

100 card covered feeder (30 mil)

50 card capacity integrated flip-out output hopper (30 mil)

16-character LCD operator control display

300 dpi (11.8 dots/mm) print resolution

Two-year warranty on printer

Two-year (unlimited passes) original printhead

One-year hot swap (U.S. only)
Printing Throughput
Printing throughput (cards per hour) based on click to drop printing, average print coverage, with USB connectivity. Times may vary depending on the computer and other configurations.
500 cph monochrome single-sided
120 cph single-sided YMCKO
Optional Features*
Magnetic stripe encoder – ISO 7811 (new and re-encoded, tracks 1,2, and 3, high and low coercivity, stripe down, 30 mil card only, factory install only)
Built-in 10/100 Ethernet
CardSense™ single-card feed mode - Contact an ID Expert at 877-868-0012 for more information about CardSense kits

ZebraCare™ extended product warranty programs – Contact an ID Expert at 877-868-0012 for more information about Zebra extended warranties
*The magnetic stripe encoder is not field upgradeable. However,10/100 Ethernet connectivity and CardSense single-card feeder kit can be purchased and added to your ZXP1 later.

Communications Interfaces
USB V2.0 (cable included) - standard
Card Compatibility
Card Thickness: 10-40 mil
Card Size: CR-80, ISO 7810 format, Type ID-1, 2.12" (54 mm) x 3.38" (86 mm)
Card Material: PVC and PVC composite
Spot Color or monochrome print only on < 20 mil card thickness
Physical Specifications

Height: 9.3" (236 mm)
Width: 7.9" (200 mm)
Depth: 13.0" (330 mm)
Weight: 11.6 lbs (5.3 kg)
Preventative Maintenance

Zebra recommends cleaning the printer on a regular basis using standard Zebra cleaning supplies and parts. Consult the User's Guide for further details.
Environmental Specifications

Operating Temperature: 60º F to 86º F (15º C to/30º C)
Storage Temperature: 23º F to 131º F (-5º C to 55º C)
Operating Humidity: 20% to 65% non-condensing
Storage Humidity: 20% to 70% non-condensing
Media Storage
Temperature: 41F to 77F (5C to 30C)
Humidity: 35% to 65% non-condensing
Do not store in direct sunlight
Drivers Supported

Microsoft Windows Certified Printer Drivers: Windows XP, Vista, Server 2003, Server 2008, Windows 7 (32-bit and 64-bit compatible, Windows 8 (32-bit and 64- bit compatible)

Zebra ZXP Series 1 – A Compact Card Printer Contender

Zebra ZXP1 printer is an update of the popular P100i with some nice added improvements, including up to 15% faster print speeds and mobile printer support.

Well-Suited for Small Print Runs – This value-class Zebra ID card printer produces single-sided ID badges. ZXP1 is well-suited for use in a small office. To maximize its potential, you can pre-print static information on the back of your cards with a monochrome ribbon and then print the front-side with variable ID data.
Large Input Hopper with Nice Print Speeds & Card Quality – ZXP1 printer offers a 100 card input hopper and a 50 card output hopper. Printing color badges at 30 seconds per card and monocolor at 7 seconds per card, its print speeds are noteworthy. Zebra ZXP1 offers 300 dpi print quality and good card coverage. Zebra also adds a 2-year warranty and the first year includes a hotswap loaner.
Mobile Printer Support via NFC – Zebra added a near-field communication (NFC) chip to the ZXP Series 1 so you can use your NFC-enabled smartphone or tablet to automatically load a handy mobile web page. The page gives you links to a number of Zebra card printer web pages/resources.
Higher Price Point But Better Coverage & Card Hopper – The ZXP1 price is a bit higher than others in the entry level class. However, ZXP Series 1 does offer better card coverage and ID card print capacity than other value class models.

The full ZXP Series 1 review was written by ID Expert, Jeramie Ivie. As ID Card Group's resident Tech Specialist and Custom Card Print Manager, Jeramie literally prints thousands of cards each month for a wide-variety of customers. He has seen it all and offers a practical view of card printers.
Still looking for the perfect card printer? See all our card printer reviews or contact an ID Expert at 877-868-0012 for more advice. We make it easy!