Zebra Printer Hard Cases
Part Number#: PTC-ZE-
CARD PRINTER TRANSPORT CASE PTC-ZE – Durable and waterproof hard transport case for your Zebra P120, P330, P430, P640, ZXP3 or ZXP8 card printer provides the ultimate protection for your Zebra printer during offsite transport and shipping.
Zebra Printer Transport Cases are designed to transport and ship your Zebra card printer with confidence and peace of mind to demonstrations, off-site photo identification projects, trade shows, and more.

Custom Zebra Fit – Each Zebra card printer transport case is custom-fitted with impact-absorbing foam to the exact dimensions and weight of your Zebra P120, P330, P430, P640, ZXP3 or ZXP8 card printer provides the ultimate protection for your Zebra card printer during offsite transport and shipping card printer. Additional cavities will carry all of your Zebra printer supplies, consumables and materials.

Durability & Construction – Zebra printer transport cases are highly durable featuring watertight, airtight, dust proof, crushproof, corrosion proof, dent proof and padlock ready construction plus a Manufacturer's Limited Lifetime Warranty.

High-Quality Standard Features - Equipped with a retractable tote arm, inset rubber wheels, multiple fold down carrying handles, comfort grips and large 'Press & Pull' latches, Zebra card printer transport cases meet all UPS shipping requirements.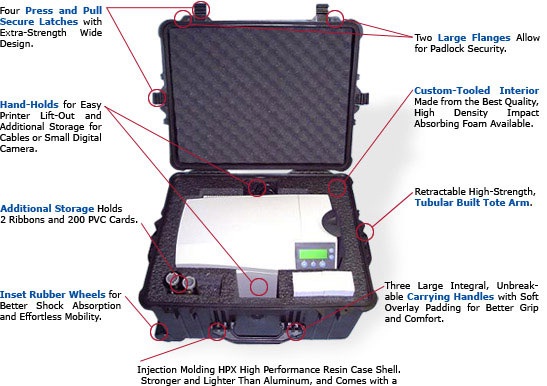 Also Available in Gray, Yellow or Olive Drab for military applications – Contact an ID Expert at 877-868-0012 for information on ordering these other colors.

IDCardGroup.com also carries Soft Carry Case for Zebra ZXP3 and P120 card printers.
Zebra Card Printer Transport Case Specifications:

Material: RoHS-compliant Polypropylene copolymer material that is lightweight, durable and highly chemical resistant

Water Resistance: Cases are water resistant with an O Ring in the lid and a Gore-Tex membrane in the pressure equalization valve that will keep water, dust and dirt out of the case.

Temperature Tolerance Range: -10 degrees F to +210 degrees F (-23.3C to +98.9C)

Adhesives: Due to the nature of the propylene being chemically inert, very little will attack the material. That also means that very few adhesives and paints will adhere satisfactorily. For an adhesive, we have found 3M's DP-8005 two-part adhesive works very well with the case material. It has also been reported that "Shoe Goo" works very well. For paint, Krylon has a product called "Fusion" that claims to adhere to polypropylene materials.