TempBadge Visitor System
Part Number#: 06196
EXPIRING BADGE VISITOR MANAGEMENT KIT – Check visitors into your facility and print temporary badges for them with this affordable and simple TempBadge Visitor Management System. Includes: TEMPbadge Professional Visitor Management Software, Direct Thermal Printer and 1,000 Self Expiring Badges.
TempBadge Complete Visitor Management System is an affordable and easy-to-use way to manage visitor access to your facility. Click to view a video about TempBadge Visitor Management System and to see how easy it is to register your visitors and print expiring badges.
Key benefits include:
Everything you need – Comes with complete thermal printer, software, and 1,000 printable expiring badges

Easy to use – Just 4 clicks and 5 seconds per visitor and little or no training required
Quick, efficient and painless sign-in process for visitors
Easy-to-navigate interface that requires little to no training for security or office personnel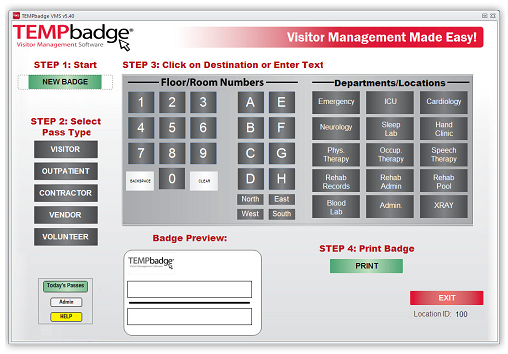 Customizable to meet your needs – Useful visitor access report capabilities and badge options
Customization options for pass types, departments and more
Reports available based on date, destination, or pass type
Can be used as a tool to investigate incidents that occur within the facility
In the event of an emergency or evacuation, the reports give a detailed account of the number of visitors in the facility and their intended destinations, departments and more
Visitor management has never been more important or challenging. Whether for schools, healthcare facilities, or businesses, TEMPbadge visitor management solutions are really easy to use and accommodate a wide variety of needs, ensuring the safety of your organization, staff and visitors. Know who is in your facility, safeguard your people and property and make a powerful first impression with TEMPbadge.
System Requirements
Operating Systems: Windows XP (must have SP3); Windows 7. Minimum Requirements: 500 MHz or faster processor / 256 MB RAM or more / 2.0 GB available disk space / 1024 x 576 or higher resolution monitor.

System Capabilities
TEMPbadge Visitor Management software is a simple, stand-alone visitor identification system. It is not designed to interact with other installations or communicate with a network. Each station has a unique identification number so that, when using multiple stations, the source of every badge can be seen at a glance.
System Includes
Direct Thermal Printer
TempBadge Visitor Software
1,000 printable expiring badges (Part# 02050)

Direct Thermal Printer Badges
Part#: 02050
ADHESIVE EXPIRING BADGES – Blank Badge Stickers with Quick-Tab Expiring Tab for your TempBadge Visitor Management System. Each roll contains 500 badges 2 5/8 x 2 13/16" – 2 rolls per package for a total of 1,000 badges.-
Units Per Pack: 1000
Retail Price: $197.00
Price: *Product is discontinued*