School ID Cards & Badges
School ID Cards & Badges
Looking for an affordable way to create student ID Cards for your K-12 school? Whether you're supplying one school or an entire school district, find everything you need with our most popular school ID printers, supplies and accessories.
Low prices
Small minimum quantities
Easy online ordering (and re-ordering!)
Free shipping on orders over $100!
Custom ID Card printing available
Need assistance? Contact an ID Expert at 877-868-0012.
School ID Cards – Easily make Faculty & Student ID Cards for K-12 Schools. Find ID badge printers, supplies & accessories for your school. Low Prices & Free Shipping on +$100 orders. We can also print your school ID badges – small minimum quantities! Call 877-868-0012 or click now.
Secure School Access with Photo ID Cards & Badges For Students, Faculty, Staff
School ID cards are used for more than just ASB events. Today, a school identification card can help your school manage:
Photo identification of students, faculty, volunteers, and staff
Cashless payments for lunch programs
Library book or equipment checkouts
Access control for campus facilities, buildings, & lab
Time and attendance tracking
Check-in at athletic and school-sponsored event
Field trip passes
With so many options, choosing the best school access system can seem daunting. Never fear! From our years working with schools and school districts of all sizes, we compiled some helpful questions so you can find the best school ID card system for your site.
What Will Your Student ID Cards Be Used For?
Make sure the school ID system you choose supports all of your ID and access needs. First, determine what kind of access your ID cards should grant to students, faculty, and visitors. There are three main types of school ID cards: Basic photo IDs, Magnetic Stripe Cards and Contactless Access Cards. Basic photo ID cards are printed on plain pvc card stock and can be used in many cases – and often include simple barcodes that can catalog and track things like library checkout and school attendance. Magnetic Stripe cards are able to hold more ID data and can be used for cashless payments and building access. Finally, contactless access cards (also called proximity cards) offer higher security and can track more student ID and security data.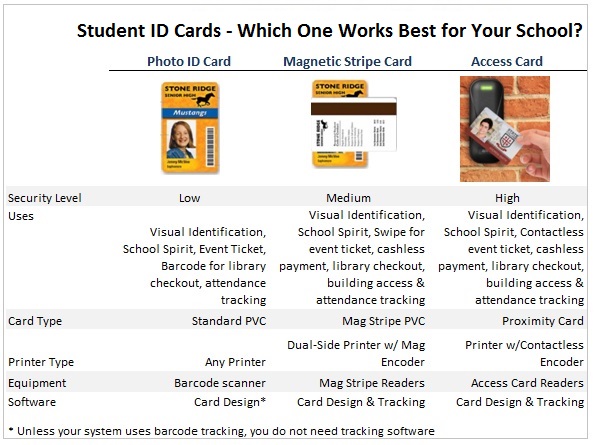 What Type of School ID Card Printer Do You need?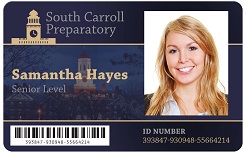 Once you have determined what type of cards you need, it is time to consider what type of ID card printer will work best for you. First, calculate how many cards you need to produce.
<1,000 annually = Low volume printing
1,000 - 5,000 annually = Standard volume printing
> 5,000 annually = High volume printing
Unless you will be using your printer every day or need high-level security features, you can save quite a bit by purchasing a less expensive entry-level (low volume) or mid-level (standard volume) card printer. It works in 80% of card print situations.
Next, decide if you'll need Single or Dual-Side card printing or a Magnetic Stripe Encoder or Contactless Encoder. These options are available on many printers. Finally, ID Card Group makes it simple for you to start your ID card program. Just order your printer with one of our Starter Kits so you can easily begin producing your ID cards right away. Our Starter Kits include printer ribbon and cleaning kit, pvc cards card design software and photo ID camera – everything you need in one place!
Want help choosing the best badge printer for your school? Contact an ID Expert at 877-868-0012 to get recommendations for your unique needs. We'll make it easy for you.
Do You Want to Print Your Own Cards - or Have them Printed for You?
Don't want to create your own cards? We can print them for you using ID Card Group's card printing services. It's fast & easy:
Choose your card type
Submit your artwork or use our design services
Select your encoding and security options
Enjoy a fast turnaround!
To get started, call (877) 868-0012 for a custom quote.
What about School Visitors?
If you have a complete School Tracking System in place – with a plastic card printer – then your facility can produce ID cards at any time. If not, consider using TEMPBadge Expiring Badges to monitor visitors, substitute teachers, workers, and event personnel - without having to print a plastic ID card.
When activated, these temporary badges feature an easy-to-see color change that lets you know if a visitor is authorized to be on your premises. TEMPBadge Expiring Badges eliminate the risk of unauthorized badge reuse and there is no need to collect used badges.
Expiring School Badges are manually-issued temporary school badges with School Visitor, Student, Substitute or Volunteer printed clearly on each adhesive badge. Half or One-day options are available.
How Will Your School Badges Be Displayed?
Now that you have decided what type of School IDs your facility needs and how they'll be produced, it's time to determine how those ID cards will be displayed.
We carry a full catalog of inexpensive Badge Lanyards, Holders, Reels and Clips – all designed to hold tight to your ID card or badge while looking stylish.
Need to custom print your ID Accessories? Nearly all of our ID lanyards, badge holders and reels can be custom-printed to include your school's logo. Contact an ID Expert at 877-868-0012 for details.
We'll make it easy to design a School ID Card program for you!
Which School ID Card Printer Should You Choose
The good news is that today's School ID Card Printers – no matter what price – all offer the same level of 300 dpi print quality and edge-to-edge card print coverage. So, you can focus on choosing your printer based on three main factors: Budget, Number of Cards, and Security Needs.
Zebra ZXP1: Ideal for Small Schools that Need Single-Sided Cards
Well-Suited for Small Print Runs – ZXP1 is a sturdy low-priced card printer that is ideal for small schools that need single-side card printing. To maximize its potential, schools can pre-print static information on the back of your cards – like a student code of conduct or important school calendar dates -- with a monochrome ribbon and then print the front-side with variable ID data – like a student photo, name and student number -- with a color printer ribbon.
Large Input Hopper with Nice Print Speeds & Warranty – ZXP1 is best for small-batch and small-volume printing. Its largest ribbon can produce up to 100 cards, so needs to be changed often for larger print jobs. ZXP1 does feature a large 100 card input hopper and 50 card output hopper, so you can set up your card print options and produce up to 50 cards at a time.
Printing color badges at 30 seconds per card and monocolor at 7 seconds per card, its print speeds are noteworthy. Zebra also adds a 2-year warranty and the first year includes a hotswap loaner.
Great Options for a Low-Priced Printer – Zebra added a near-field communication (NFC) chip to the ZXP Series 1 so you can use your NFC-enabled smartphone or tablet to automatically load a handy mobile web page. The page gives you links to a number of helpful Zebra card printer web pages/resources.
ZXP1 also offers Magnetic Stripe Encoding and Ethernet connectivity options. These card printer options are found mostly in higher-priced models.
Evolis Primacy – Great for Medium & Large-Sized Schools That Need Flexibility
Evolis Primacy is a great card printer for medium and large-scale schools and districts because it offers fast output, excellent color punch, superior card coverage, and a modular design that can be upgraded as needed – right in your school office!
Practical Design with Flair - Evolis understands good work flow. Primacy features balanced 100 input/output hopper capacities on the front of the machine AND a back hopper for encoding. This means that you can print 100 student ID cards at a sitting – a nice feature for busy offices that don't have a staff member to constantly monitor print output. The printer comes in two colors - Fire Red and Brilliant Blue – which can add a bit of pizzazz to your facility.
Many Field Upgradable Options – Upgrade your Primacy to dual sided or magnetic encoding from the comfort of your own office. This will be especially helpful for schools that aren't sure what they need at the outset. Not sure if you need single or-dual-side cards yet? No problem! You can order a single-side Primacy now and purchase the dual-side upgrade key at a later time.
Intelligent Ribbon Installation and Configuration - Changing the Primacy ribbon is as simple as dropping it in and closing the lid. The RFID chip updates the driver immediately and you are good to go. The Premium Suite for Windows gives you helpful information such as cleaning cycles, percentage of ribbon left, and more. Finally, because this is a medium volume printer with high-capacity ribbons (i.e. a Primacy color ribbon can print up to 300 cards), your cost-per-print is lower than smaller-batch printers.
Robust Warranty - Primacy is backed by a standard 3 year warranty, which is one of the best in the industry. Just make sure you keep up on your cleaning cycles, or you'll quickly have a print head that is no longer covered under the warranty.
Fargo DTC4500e Printer with Laminator - A High Security Printer for Large Districts and School Campuses
Lamination Option Fights Forgery – Fargo 4500e lamination module produces tamper-proof, secure student ID cards that resist forgery. Choose from clear or holograph laminate – depending on what type of security your school needs. Although the printer is big, it has a fairly small footprint because Fargo placed the optional laminator unit on top, rather than next to the printer, so it can fit easily into your school or district office. This module can be added now or after initial purchase, which is great for schools that don't know if they necessarily need lamination.
Locking Hoppers, Password Protection & UV Printing Offer Extra Security - The DTC4500e guarantees secure printing with built-in printer password protection (great for busy school offices), fluorescent ribbons for Ultra-Violet (UV) printing and optional locking hoppers to protect blank PVC card stock and printed/encoded cards.
High Capacity Hoppers & Ribbons - Good Speeds for its Size - With its 100 card input hopper and 500 print ribbon, Fargo DTC4500e is a printing powerhouse. Due to the lamination feature however, the DTC4500e does not print a full color card in 16 seconds. Laminated cards take longer for the additional overlay run - plus the cards travel a fair distance further with the laminator unit configured on top.
Configurable for Different Card Stocks - While the DTC4500e is configurable for different card stocks, using the laminator unit limits you to a 30 mil card stock. I would highly suggest a composite card stock due to the heat of the laminator. I would also caution against using adhesive cards.
Easy Integration & Field Upgradable WiFi - Built-in Ethernet and USB connections allows for centralized or remote printing. With the WiFi Accessory module – which can be added to your DTC4500e at any time - you can print from anywhere.
Multiple Encoding Options - Fargo DTC 4500e printers offer a long list of encoding options from your standard mag encoding to high security MIFARE. These options make it ideal for schools and districts that rely on access control security readers and proximity cards for their facilities. Because high-security encoding can be complicated, contact an ID Expert at 877-868-0012 to order your DTC4500e with these options.
ID Card Group carries a wide-range of card printer brands and types. An ID Expert can help you choose the best from our entire stock of School ID Card Printers. We'll make it easy!